Succession
SUNDAY: Just when you thought this blistering, and often brutally funny, drama of family, media and power couldn't get more cynical and shocking, along comes conglomerate Waystar Royco's first presidential election night minus the oversight of late patriarch Logan Roy (Brian Cox). His presence is very much felt as ATN's overwhelmed news-network head Tom (the brilliant Matthew Macfadyen) tries to keep his estranged wife Shiv (Sarah Snook) and her co-CEO sibs out of the control room when alarming news breaks and panic sets in. If you thought this week's televised town hall on CNN was a circus, you ain't seen nothing yet.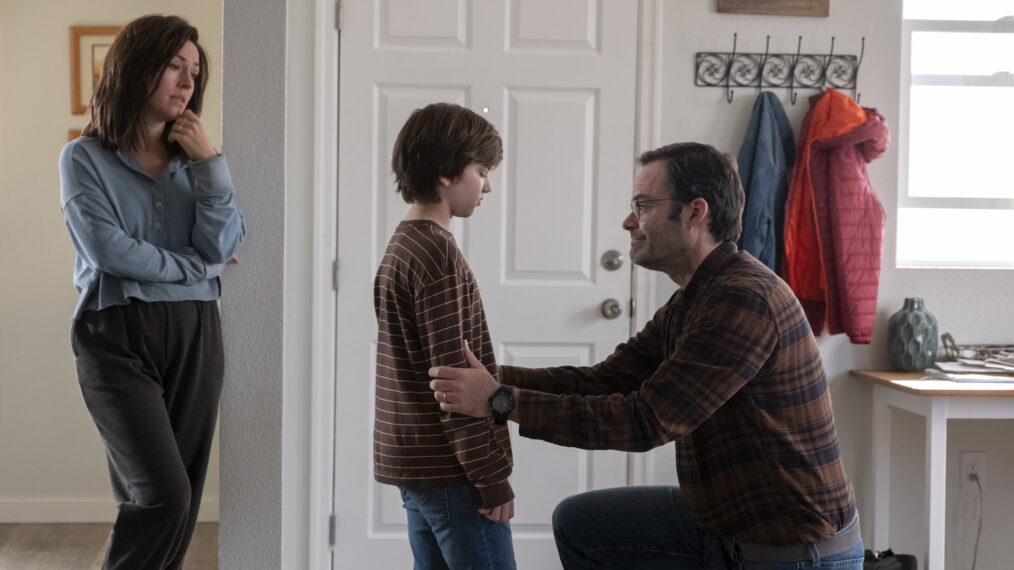 Barry
SUNDAY: Equally audacious, the pitch-black dramedy settles into its new "eight years later" time frame, with Barry (Bill Hader) heading back to L.A., leaving behind a spiraling Sally (Sarah Goldberg) and their son in their bleak desert home. The older but hardly wiser assassin is newly obsessed with the nature of sin, all the while planning to kill his one-time mentor Gene Cousineau (Henry Winkler). The former acting coach has his own agenda, trying to stop the movie being made about their exploits. Little do they know that Fuches (Stephen Root) has fully transformed while in prison into his criminal persona of The Raven, and all hell is about to break loose.
Fear the Walking Dead
SUNDAY: Time flies on the zombie-thriller spinoff, taking yet another time jump in its eighth and final season. Fear opens seven years after Morgan (Lennie James) and a resurrected Madison (Kim Dickens) found their way to the child-snatching group known as P.A.D.R.E., with Morgan's daughter Mo now part of the youth army being groomed for who knows what on a mysterious island. Madison has now turned on her P.A.D.R.E. baby-napping masters, but will it be too late when she and Morgan go undercover with the group?
Dream Moms
SATURDAY: As a Mother's Day curtain raiser, Hallmark presents the story of Danielle (Tamera Mowry-Housley) and Claire (Chelsea Hobbs), two once-aspiring performers who set aside their show-biz dreams for family and motherhood. A nationally televised talent contest spurs the women to polish their song and dance skills — Mowry-Housley performs three original numbers — and once again savor the spotlight. For those seeking more vintage movie stories about moms, Turner Classic Movies devotes much of Sunday to cinematic mothers, including the Oscar-winning performances of Joan Crawford in Mildred Pierce (Sunday, 12 pm/11c) and Ellen Burstyn in Alice Doesn't Live Here Anymore (Sunday, 8/7c).
East New York
SUNDAY: End-of-season cancellations are particularly painful, and if my mailbag is any indication, fans are especially disappointed to lose this urban crime drama after just one season. In what is now (for now) the series finale, Deputy Inspector Regina Haywood's (Amanda Warren) leadership is on the line, when her boss Assistant Chief Suarez (Jimmy Smits) questions her idea to encourage cops to live in a local housing project after a double homicide on the premises. It doesn't help that the killings are linked to one of the resident officers' failure to report a violation.
Yellowjackets
SUNDAY: It's initiation time for the newest arrivals at Lottie's (Simone Kessell) "intentional community" cult — Shauna (Melanie Lynskey), Taissa (Tawny Cypress), Van (Lauren Ambrose) and Misty (Christina Ricci) — with each assigned tasks intended to spark epiphanies. No surprise that Misty's time in an isolation flotation tank is especially trippy. As usual, the more riveting drama is taking place during the winter of the crash survivors' discontent, with everyone still reeling from young Shauna's (Sophie Nélisse) childbirth trauma.
Inside Weekend TV:
Banded (Saturday, 9/8c, AXS TV): Brandon Jenner and American Idol finalist Didi Benami host a music competition in which 25 contenders are grouped into five multi-genre bands, with mentors and judges from the worlds of country, rock and metal.
Little House on the Prairie (Sunday, 11 am/ET, COZI TV): Ma Ingalls herself, Karen Grassle, hosts an eight-episode Mother's Day marathon of the beloved 1970s' family frontier drama, sharing anecdotes about life on the set.
60 Minutes (Sunday, 7/6c, CBS): Formerly of ABC News, Cecilia Vega presents her first report, diving with sperm whales off the coast of Dominica. Jon Wertheim profiles innovative conductor Yannick Nézet-Séguin and Sharyn Alfonsi investigates the investment arm of the Church of Jesus Christ of Latter-day Saints.
The Simpsons (Sunday, 8/7c, Fox): Krusty opens a clown school that might actually be a serious business.
The Equalizer (Sunday, 8/7c, CBS): Things get personal for Robyn (Queen Latifah) when a clue sends her back in the past to investigate her father's carjacking murder 30 years ago.
The Cube (Sunday, 9/8c, TBS): The game show set in a glass box returns for a second season, with guests Gabrielle Union-Wade (wife of host Dwyane Wade) and La La Anthony competing for charity.
NCIS: Los Angeles (Sunday, 10/9c, CBS): After 14 seasons, the two-part series finale (concluding next week) opens with Callen (Chris O'Donnell) and Anna (Bar Paly) planning their wedding while the team works with the ATF to find a missing agent and stolen military-grade weapons.
Match Me Abroad (Sunday, 10/9c, TLC): Three matchmakers based in Prague, Colombia and Morocco help Americans find true love outside their borders.



This story originally appeared on TV Insider