Dell's 32-inch UltraSharp 6K monitor offers a cheaper alternative to Apple's Pro Display XDR, but while similar in size and resolution, they go after two very different markets. Here's how the specs of the two compare.
During CES in January, Dell introduced a display it would ship later in 2023 that seemed to offer a big-screen, high-resolution experience. Namely, the calling cards of Apple's Pro Display XDR.
Shipped in May, Dell's UltraSharp 32 6K monitor, model number U3224KB, is now on the market as an option for those seeking a large screen with a 6K resolution. It does so at a far cheaper price, while also throwing in a lot of features that Apple simply declined to include in the Pro Display XDR.
While it seems that comparing the two monitors should be easy, the reality is that there's a lot more going on here.
Specifications
Specs
Pro Display XDR
Dell UltraSharp 32 6K U3224KB
Size
32-inch
32-inch
Resolution (pixels)
6,06-by-3,384
6,144 x 3,456
Color range
P3
99% DCI-P3,
100% Rec 709
Peak brightness
1,000 nits sustained,
1,600 peak for HDR,
500 nits SDR
450 nits
Contrast Ratio
1,000,000:1
2,000:1
True Tone
Yes
No
Webcam
No
8MP, 4K 30fps
Audio
No
14W stereo speakers
Microphone
No
2 array microphones
Connections
Thunderbolt 3 (Upstream, 96W),
3 x USB-C (USB 2)
Thunderbolt 4 (Upstream, 140W),
Thunderbolt 4 (Downstream, 15W),
HDMI 2.1
Mini DisplayPort 2.1
5 x USB 3.2 Gen 2
2 x USB-C 3.2 Gen 2 (15W)
1 x USB-C (data only)
2.5Gb Ethernet
Nano-texture
Optional
No
Stand options
Pro Stand, VESA
Height, pivot, swivel, tilt stand
Price
$4,999 Standard Glass,
$5,999 Nano-texture Glass,
Stand and VESA adapter sold separately
Best Pro Display XDR prices
$3,199.99
Dell UltraSharp 32-inch 6K vs Pro Display XDR – Physical design
The Pro Display XDR certainly follows Apple's design aesthetic, using a large display with a thin bezel, all fitting into a metal enclosure. At 28.3 inches wide, 16.2 inches tall, and a uniform 1.1 inches thick, it's fairly slab-like in nature.
Around the back is Apple's unique hemispherical cutouts, which help reduce weight while also increasing the thermal management capabilities of the display.
Dell, however, goes for what it knows when it comes to design, and that means a lot more use of plastic. You're not getting the all-metal enclosure here.
At the front, the display has a small chin, as well as a larger section up top. The black bar is topped by a webcam, housed in its own cylindrical section that sticks out from the top.
While the front of the Dell is flat, the rear is curved. This is a trick used to make the display seem thinner at the edges, while also bulking out the back to house the actual electronics and connections.
On its own, the Dell is 28.2 inches wide, 19.2 inches tall, and 2.6 inches thick.
Holding up the Dell is a stand that provides a height adjustment of 6.3 inches, 180-degree rotation, a 60-degree swivel angle, and a -5 to +21 tilt angle. With the stand, the Dell can range from 20.6 inches in height to 26.9 inches.
Apple's Pro Stand offers just 4.7 inches of height adjustment, with a range between 21 inches and 25.7 inches in height. The stand can handle landscape and portrait orientations, and a larger tilt capacity at -5 degrees to +25 degrees.
It's worth pointing out that Apple does not include the Pro Stand with the Pro Display XDR, and that you have to get it separately.
Both monitors are also VESA compatible, though again, Apple does require the purchase of a separate VESA Mount Adapter rather than offering it directly.
Exclusive Deals Through AppleInsider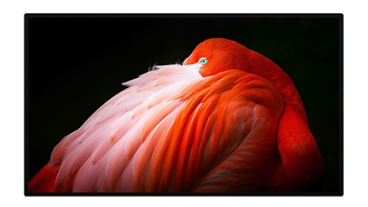 Apple Pro Display XDR
Save up to $1,200 with coupon code APINSIDER at Adorama.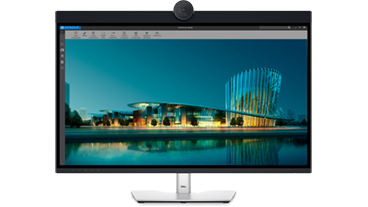 Dell U3224KB 6K Monitor
The 32-inch U3224KB is a 6K monitor with IPS Black panel technology.
Dell UltraSharp 32-inch 6K vs Pro Display XDR – Display
Of all the sections, the display quality is arguably Apple's strongest point against Dell's screen.
The Retina 6K display is a 32-inch IPS LCD screen with oxide TFT technology. With a 6K resolution of 6,016 by 3,384 pixels and a pixel density of 218 pixels per inch, the screen also has an aspect ratio of 16:9, super-wide viewing angles at 89 degrees in all directions, and excellent brightness.
This includes an SDR brightness of 500 nits and an XDR brightness of 1,000 nits sustained, 1,600 nits at peak for HDR content. There's also a contrast ratio of 1,000,000:1.
This is mostly due to the 2D backlighting system with 576 full-array local dimming zones, which can help provide deeper black shades than a typical backlight system.
Dell's monitor is also a 6K 32-inch screen, though with a slightly larger native resolution of 6,144 by 3,456, and a pixel density of 223ppi. Deemed by the company to be the first 6K monitor using IPS Black panel technology, which is supposed to offer better color accuracy and handle detail better in darker scenes, the tech sounds like it should be no match for Apple's XDR smarts.
According to Dell, the display manages a contrast ratio of just 2,000:1, far from the million-to-one of the Pro Display XDR. It does offer 178-degree horizontal and vertical viewing angles, matching Apple.
Brightness isn't its strong suit either, at just 450 nits for the UltraSharp.
On color, Dell supports HDR600 as well as 99% of the DCI-P3 color gamut, 100% of Rec 709, and 100% of sRGB, and can handle up to 1.07 billion colors. The Pro Display XDR also supports P3 to a 10-bit depth for 1.073 billion colors.
However, Apple also includes reference modes, for displaying content in a number of ways. This includes P3-ST 2084 for HDR video, NTSC, PAL, SECAM, Digital Cinema in P3-DCI and P3-D65 modes, and others for design, print, and sRGB.
Both displays can handle a refresh rate of up to 60Hz.
According to Dell, it uses an anti-glare 3H Hard Coating for the front of the screen, providing some protection and minimizing the impact of environmental lighting, but in a fairly standard way. As for software smarts when it comes to image, it has some blue light-minimizing tech, but that's about it.
Apple uses a "standard glass" for the Pro Display XDR, but users could pay an extra $1,000 for the Nano-texture glass instead. Rather than relying on coatings that could lower contrast, a nano-texture is etched into the glass itself, providing the same anti-glare capabilities without reducing contrast.
Along with reference modes, there's also True Tone support using sensors on both the front and rear to more accurately measure ambient light. It's also color-calibrated, with the 576 LEDs in the backlight individually calibrated with its light profile stored, with an algorithm then using that information during use to properly light the image.
Dell UltraSharp 32-inch 6K vs Pro Display XDR – Audio and camera
While Apple certainly takes the lead when it comes to the main display itself, Dell does the same for other areas where the Pro Display XDR falls short. Unusually for a high-price display, Apple didn't include speakers or a camera in the Pro Display XDR.
Handling audio duties for the Dell is a pair of microphones in an array with noise and echo cancellation built in, which would be good for video-based meetings and presentations. The speakers are stereo units and can output 14W apiece.
Evidently, Apple thought its users would prefer to come up with their own audio solution, which isn't unreasonable to assume. If you're paying a lot for the Pro Display XDR, it's likely that you'd get a decent speaker system instead of using a MacBook Pro's built-in speakers for a desktop setup.
The previously mentioned webcam in Dell's display is also fighting a one-sided battle, as Apple declined to include one in the Pro Display XDR.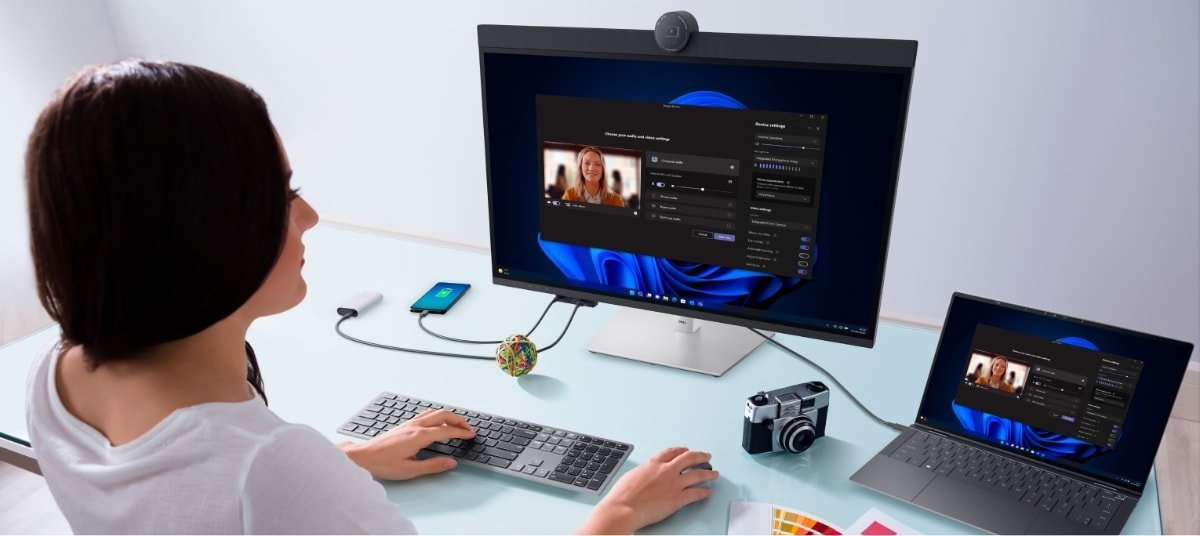 Dell's display may be better suited to those who want an all-in-one display with the built-in webcam and audio features.
Dell's webcam is an 8-megapixel version that offers 4K 30fps video, up to a 90-degree field of view, a 5-times digital zoom, and a focal distance of up to 5 meters (16.4 feet). The 4K Sony Starvis CMOS sensor has digital overlap HDR and 3D/2D Video Noise Reduction for even better picture quality.
There's also AI Auto Framing 2.0, a feature that handles transitions, tracking sensitivity, and image boundaries better than the original. This is basically the same as the Center Stage feature Apple offers in some of its devices, where it keeps the user in the middle of the frame automatically.
For privacy, there's a Safe Shutter, a physical screen that slides in front of the lens.
With support for Windows Hello, users can sign in automatically into their computers. There's also Dell ExpressSign-in, which does the same thing.
On the Apple side, you're going to have to rely on a USB webcam or one built into a MacBook Pro.
Dell UltraSharp 32-inch 6K vs Pro Display XDR – Connectivity and power
In fairly typical Apple style, you have fairly limited connectivity with the Pro Display XDR. Aside from power, there are just four ports.
One port is the Thunderbolt 3 host, the upstream that handles data and video, which can also provide 96W of power to recharge a connected MacBook Pro. The other three ports are USB-C, light-use ports meant for charging and syncing devices.
Technically they're meant for light use, as they're said by Apple to be USB 2 speeds, which isn't that fast. However, with a 16-inch MacBook Pro connected, they act with USB 3.1 Gen 1 data speeds.
Dell takes the opposite route, in that it offers a wide number of different ports around the back.
Along with a Kensington Security Slot and a power connector, there are ports for HDMI 2.1, Mini DisplayPort 2.1, a quartet of USB 3.2 Gen 2 Type-A ports, Ethernet that can work at up to 2.5Gbps, a Thunderbolt 4 upstream with 140W of PD and DSC support, a Thunderbolt 4 downstream with 15W of power, and a USB Type-C data-only port.
These aren't the only ports, as the bottom left edge includes a pop-down section that is accessible from the front. When popped out, that includes two USB 3.2 Gen 2 Type-C ports with 15W of power, and a USB 3.2 Gen 2 Type-A connector.
Since you can connect a lot more devices to the Dell monitor, the company also added functionality to help make it as smooth as possible to use, such as screen arrangement profiles and a USB KVM wizard for using one keyboard, mouse, and monitor between multiple devices.
Dell UltraSharp 32-inch 6K vs Pro Display XDR – Price
The Dell UltraSharp 32 6K Monitor is priced at $3,199.99.
Apple sells the Pro Display XDR for $4,999 with Standard glass, $5,999 with Nano-texture Glass.
The Pro Stand is available as an option that costs an extra $999. The VESA Mount Adapter is also offered at $199.
In effect, to get a Pro Display XDR with the Pro Stand, so you can use it on a desk just like the Dell, you're looking at $5,998 for the Standard glass version, $6,998 for the Nano-texture variant.
Dell UltraSharp 32-inch 6K vs Pro Display XDR – Which to buy?
At face value, the Dell seems like the best possible option of the two. At close to half the cost of the Pro Display XDR and the Pro Stand, it seems like it's great value for money.
Add in the existence of a fairly smart webcam, speakers, a microphone, and a plethora of ports that Apple doesn't include in its high-spec monitor, and it looks even better.
From the viewpoint of someone working from home who wants a monitor that can do it all and at 6K, the Dell is a very attractive proposition. Indeed, there are few cases where potential display buyers will ignore what Dell's offering in favor of Apple's screen.
It's these edge cases where the Pro Display XDR thrives, and it's all about the visual aspect.
If you're working for a video production company with a sizable budget and you want to have the best picture quality possible, then you're probably going to lean toward the Pro Display XDR. With its superior brightness and contrast offered by localized dimming, as well as the many different reference modes, it's the better option.
This content creation user category is also more likely to be selective about what else they place on the desk. If they're doing audio work as well as video, they're going to use specialist speakers, not some built into a display.
Likewise, they may prefer a higher quality camera instead of a built-in webcam, even though Dell's is already a 4K one.
Unless you have a realistic reason to go for the Pro Display XDR, and a sizable budget to match, Dell is probably going to be the better option for most users.
For those users with justifiable exceptions, Apple is the way to go.
Where to buy the Dell U3224KB vs Pro Display XDR
The Dell UltraSharp 32 6K Monitor U3224KB is available from Dell for $3,199.99.
The Apple Pro Display XDR normally starts at $4,999, but AppleInsider readers can save up to $1,200 on the high-end display with promo code APINSIDER at Apple Authorized Reseller Adorama. You can also compare prices across retailers in our Monitor Price Guide.


This story originally appeared on Appleinsider