Utilizing the best character build for Qingque in Honkai: Star Rail is an excellent way of optimizing the damage she can inflict upon enemies, quickening most battles and improving how the rest of the team performs. The Quantum character from Xianzhou Luofu follows the Path of The Erudition. This means she is a specialist in using AoE attacks to strike multiple foes simultaneously. This Path is best used as a sub-DPS in a Honkai: Star Rail team comp as it will be a secondary source of damage following individual target strikes, such as Hunt or Destruction characters.
Qingque is valuable in Honkai: Star Rail, especially at launch, due to the Quantum Element, which is scarce among the available roster. If players have not obtained Seele from the limited-time gacha banner, they should consider using Qingque, as Quantum is a widespread weakness among enemies, and she is an easy F2P (free-to-play) character to get. On top of that, they will want to use Qingque's best build to certify she is putting out as much damage as possible or at least contributing to inflicting Weakness Break so that other characters can take advantage and deal a high DPS count.
Best Light Cones For Qingque
Qingque is an Erudition character, so the Honkai: Star Rail Light Cone she equips has to be of that same Path. Not only will it allow her to gain better stats that are more akin to her own needs, but the weapon's Superimposed ability will bring gameplay advantages that match the Path's purpose. Unlike Himeko or Herta, however, Qingque is incapable of executing follow-up attacks, which means not every Erudition Light Cone will work well with her. For now, the best Light Cone for Qingque's build is Night on the Milky Way.
The 5-star Light Cone is Himeko's signature weapon and is suitable for a DPS due to its base ATK stat (582 at level 80). On top of that, it embraces The Erudition's mission and grants the user a 9% ATK boost for every enemy on the field, up to five stacks. That means that players facing a full party of opponents can get a 45% ATK increase, which is a stupendous buff to the stat. On top of that, whenever a foe gets inflicted with Weakness Break in Honkai: Star Rail, the user's DMG is increased by 30% for one turn.
Night on the Milky Way is undeniably the best Light Cone for Qingque's build and one of the best Erudition weapons in the game. What makes it even better is that it can be obtained from the in-game Starlight Exchange shop with enough Undying Starlight, which is gathered from Warping in Honkai: Star Rail.
While Jing Yuan's signature 5-star Light Cone, Before Dawn, is great for DPS Erudition characters, it has a secondary effect that boosts follow-up attacks and would effectively go to waste with Qingque.
Because obtaining the 5-star Night of the Milky Way depends on luck with the gacha system or enough investment to gather Undying Starlight, players must be ready to use 4-star alternatives when building Qingque in Honkai: Star Rail. There are, nevertheless, multiple options to choose from. The best 4-star Light Cone for Qingque is her own signature Today Is Another Peaceful Day. The weapon has a great base ATK stat for a 4-star (529 at level 80), but its Superimposed ability makes it ideal for the character.
Upon entering a battle, the user's DMG is increased based on their Max Energy. Their DMG increases by 0.2% per Energy point, up to 160 Energy. Along with Yanqing, Qingque has the highest Max Energy count in Honkai: Star Rail: 140. That means the Qingque can get a DMG boost of up to 28%. Today Is Another Peaceful Day is a fantastic 4-star Light Cone for her. Qingque's complete build can be checked in the table below:
Best Build For Qingque

Light Cone

Night On The Milky Way (Best 5-star)
Today Is Another Peaceful Day (Best 4-star)
The Seriousness of Breakfast (F2P 4-star; easy to level Superimposition)

Relic & Ornament Set

Relics:

Genius of Brilliant Stars (4 Relic pieces)
Musketeer of Wild Wheat (4 Relic pieces)

Ornaments:

Space Sealing Station (2 Ornament pieces – ATK)
Inert Salsotto (2 Ornament pieces – CRIT Rate)
Celestial Differenatiator (2 Ornament pieces – CRIT DMG)

Stat Priority

CRIT Rate / CRIT DMG
ATK
Quantum DMG
SPD
Energy Regen Rate

Skill Priority

Ultimate
Basic Attack
Talent
Skill
Another considerably good 5-star Light Cone for Qingque's build in Honkai: Star Rail is The Seriousness of Breakfast. This weapon is easily obtained and is a F2P that requires no participation whatsoever in the gacha system. Players can get it for free during an early-game Trailblaze Mission and by acquiring it from the Forgotten Hall store. Its base ATK stat (476 at level 80) is worse than that of Today Is Another Peaceful Day, but its Superimposed skill is quite good.
By equipping it, the user gets a 12% DMG increase, and for every defeated opponent, the user's ATK is boosted by 4%, up to three times. This is already a significant effect, but considering how easy it is to level up the Superimposition by acquiring multiple copies from the Forgotten Hall shop, the damage bonus is superb. At the maximum Superimposition level 5, the DMG bonus is 24%, and the boost for each defeated enemy reaches 8%.
This sum of benefits makes The Seriousness of Breakfast a great Light Cone for Qingque and nearly an equal substitute for the 5-star Night on the Milky Way.
Best Relics, Ornaments, & Stats For Qingque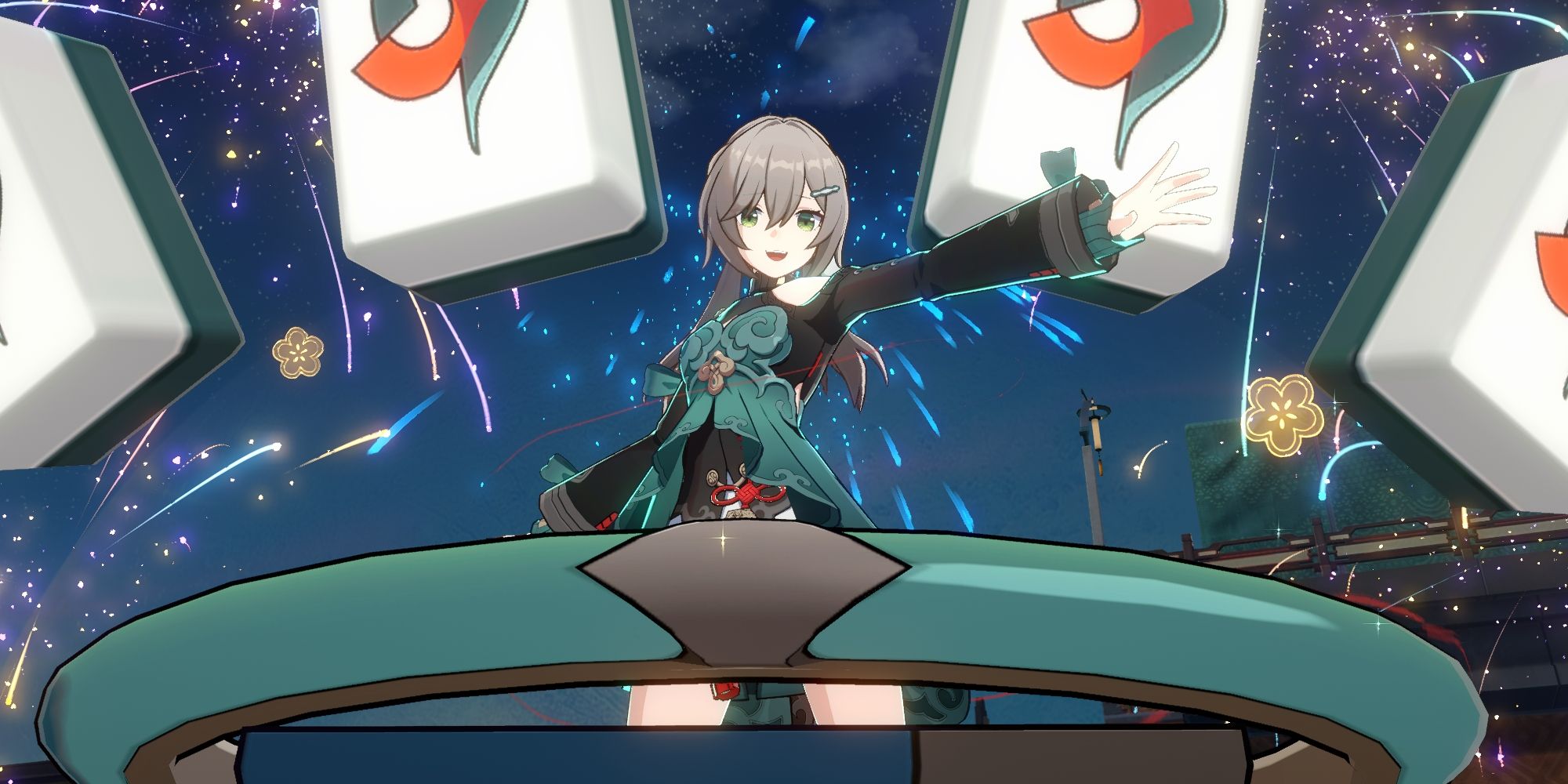 Aside from a decent Light Cone, Qingque's build also requires good Relic and Ornament sets, as well as a proper stat distribution – even if that is the hardest part to accomplish. Qingque can effectively employ two different Relic sets in Honkai: Star Rail: Musketeer of Wild Wheat and Genius of Brilliant Stars. The former grants a straightforward 10% ATK bonus with two equipped pieces, and at four pieces, it increases Qingque's SPD by 6% and Basic Attack DMG by 10%. This is a generic DPS set that happens to work well with the character.
The latter is more fitting for her Elemental expertise. With two pieces, Genius of Brilliant Stars gives the user a 10% Quantum DMG increase. The four-piece bonus makes the user ignore 25% DEF of an opponent when attacking a foe with Quantum Weakness. Players will have to decide how they want to use Qingque in a team composition to determine the Relic set: Musketeer is a better way of building a secondary DPS with higher ATK stats, while Genius makes her more of a specialist.
Regardless of the chosen Relic set, players should not mix two-piece bonuses from each set. Instead, it is better to use a full set of four pieces, be they the Musketeer of Wild Wheat or Genius of Brilliant Stars.
To complement the Relics in Honkai: Star Rail, players will also have to farm a Planar Ornament set for Qingque's build. The best one to use is Space Sealing Station. It increases the user's ATK stat by 12%, and when they reach 120 SPD or higher, their ATK gets another 12% bump. This is an excellent way of making a DPS more powerful, and it matches Qingque's overall build.
Another option is going with either Inert Salsotto for CRIT Rate and Ultimate DMG boosts or Celestial Differentiator for a CRIT DMG increase. These are great options for players struggling to obtain the ideal CRIT Rate / CRIT DMG distribution when building Qingque.
When it comes to the best stats to look for when farming Relics and Ornaments, players will want to prioritize the DPS essentials: ATK and a decent CRIT Rate / CRIT DMG distribution. These will make Qingque's build in Honkai: Star Rail all the more effective on the battlefield. Other great sub-stats to consider when farming is SPD (at least enough to activate Relic bonuses and ensure she has the upper hand against most foes) and Quantum DMG.
A particular stat that players need to include as often as possible is Energy Regen Rate. Qingque relies on her Ultimate to work and deal AoE DMG, so having it up and available as often as possible is a vital part of her gameplay strategy.
Skill Priority For Qingque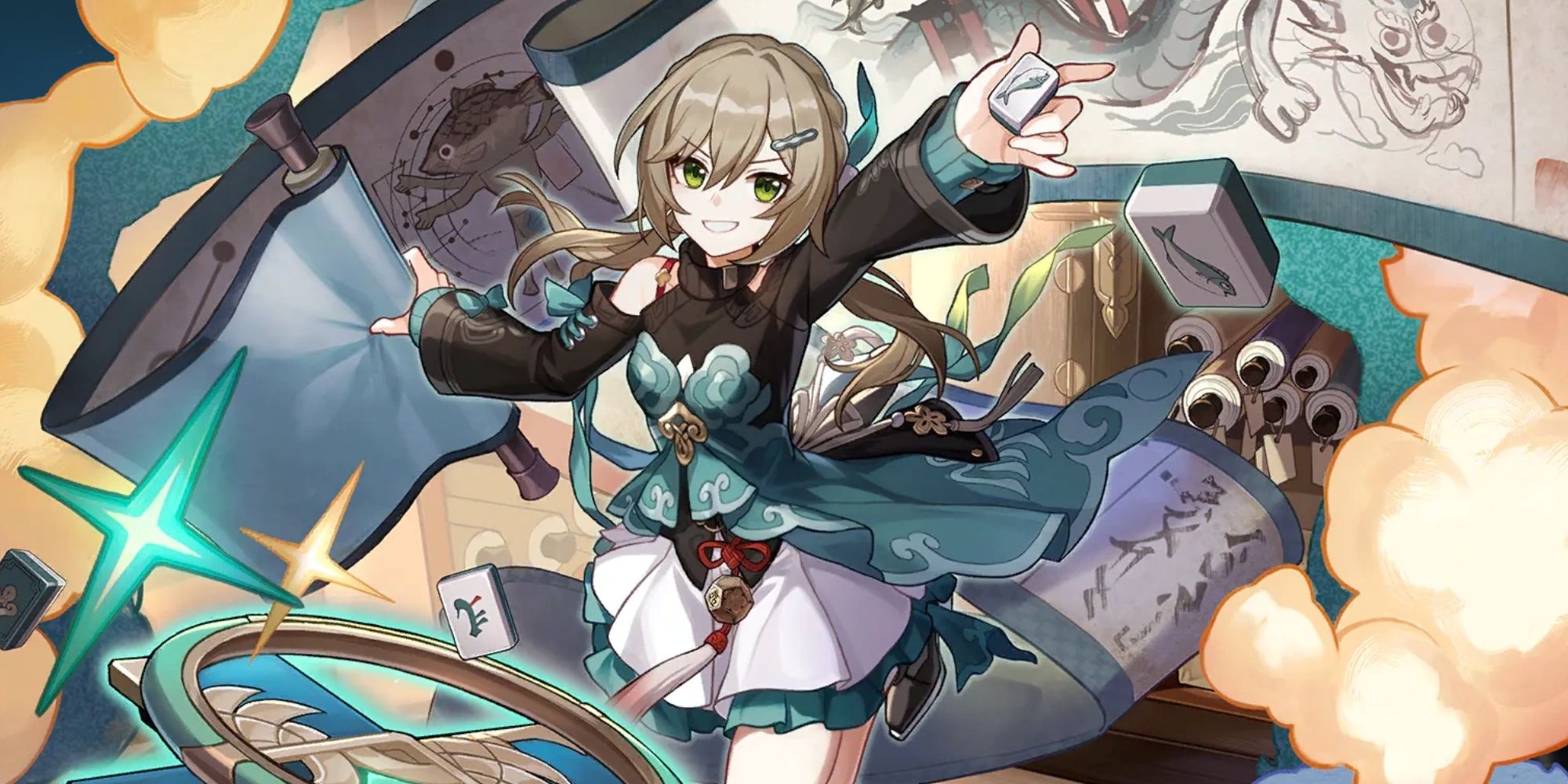 Qingque's Ultimate is her prime Trace in Honkai: Star Rail, so it should be the first priority. Not only will it deal intensified DMG, but it will also set up her Basic Attack's second form. Her Basic Attack should be the second priority, as it is the move that will deal AoE DMG if it is altered. Having it deal as much as possible in Qingque's build is the ideal scenario. Following that, players should level up her Talent, which impacts her the DMG applied by her Basic Attacks' second form and, lastly, her Skill. Qingque Skill is mostly used for drawing Jade Tiles, which can help set up the Basic Attack's second form when the Ultimate is not available.
The best build for Qingque will significantly boost the character's presence on the field. As a sub-DPS, she can positively contribute to a team comp, and considering her AoE attacks, that can be just enough to inflict Weakness Break and make it much easier for the main DPS to wipe them all out. While Qingque is far from being among the best characters in Honkai: Star Rail, she is an easy F2P option to build and effectively put to use.
Platform:

PC, iOS, Android, Microsoft Windows

Developer:

HoYoverse

Publisher:

HoYoverse

Genre:

Turn-Based Strategy, RPG, Adventure

Multiplayer:

Online Multiplayer

ESRB:

Not Yet Rated

Summary:

Set after the events of the ongoing game Honkai Impact 3rd, Honkai: Star Rail is a turn-based online RPG from developer Hoyoverse. Two members of the Astral Express, March 7th and Dan Heng, are on their way to the Herta Space Station with precious cargo when ambushed by members of a group known as the Antimatter Legion. Chaos ensues as among them is the god of destruction known as Aeon, who steals a seed known as a Stellaron, which they implant in an artificial human known as the "Trailblazer." Players will assume the role of this character as they try to avoid their fate and save all of civilization. Similar to gacha-style games, players can acquire more characters to add to their party by summoning and engaging in fast-paced turn-based battles in this epic Sci-fi online RPG. 


This story originally appeared on Screenrant