Quick Links
The Rarely Affectionate (Part 2) quest comes about in Honkai: Star Rail as a continuation of one of several side missions players can complete to add a new character to the Astral Express crew. In addition, a special two-part series of missions see players find different parts to fix Pascal, the companion robot of Clara. This side quest gives players a few challenges, from battles with dangerous machines to tough choices regarding Pascal.
The first part of the Rarely Affectionate mission shows up once players reach Trailblaze Level 34 and complete the Sinners Misled, Credence Falsified main story quest. Clara will send the player messages asking for help with Pascal in Belobog, close to the Robot Settlement. If players aren't getting a prompt for Part 2 of the quest from Clara after finishing the first portion, returning to the Parlor Car often fixes this issue.
Rarely Affectionate (Part 2) Quest Walkthrough
Returning to Clara at the Robot Settlement initiates the quest, which has players travel east to collect parts for Pascal to solve the issues that arose in Part 1 of the mission. Taking the elevator before traveling puts players in the correct position, where they can travel to find a Direwolf Automaton enemy. Unfortunately, the machine turns aggressive and must be defeated in battle before players return to Savrog with robot parts, which they install onto Pascal.
As soon as Pascal receives this part, they run away toward a section in Rivet Town before being attacked by an Automaton Grizzly. Players can save Clara's companion, but once again, the robot moves away, this time to a hidden section of the map called The Tempering Workshop. However, Clara was able to transfer the Grizzly's core into Pascal right before they escaped, so perhaps there is still hope for the machine's repair.
Related: Where To Find The Tempering Workshop In Honkai: Star Rail
Finding Pascal one more time reveals the whole story, including Clara's connection to the strange machine. From here, players must return to Savrog in the Robot Settlement, where a discussion takes place about what should be done about Pascal. Players are given two choices: Clara's idea to "lock" Pascal's core to prevent it from harming others or Savrog's advice to erase its emotional intelligence to remove Pascal's corrupted data. Once this decision has been made, players are rewarded for completing the quest.
Rewards For Completing The Rarely Affectionate (Part 2) Quest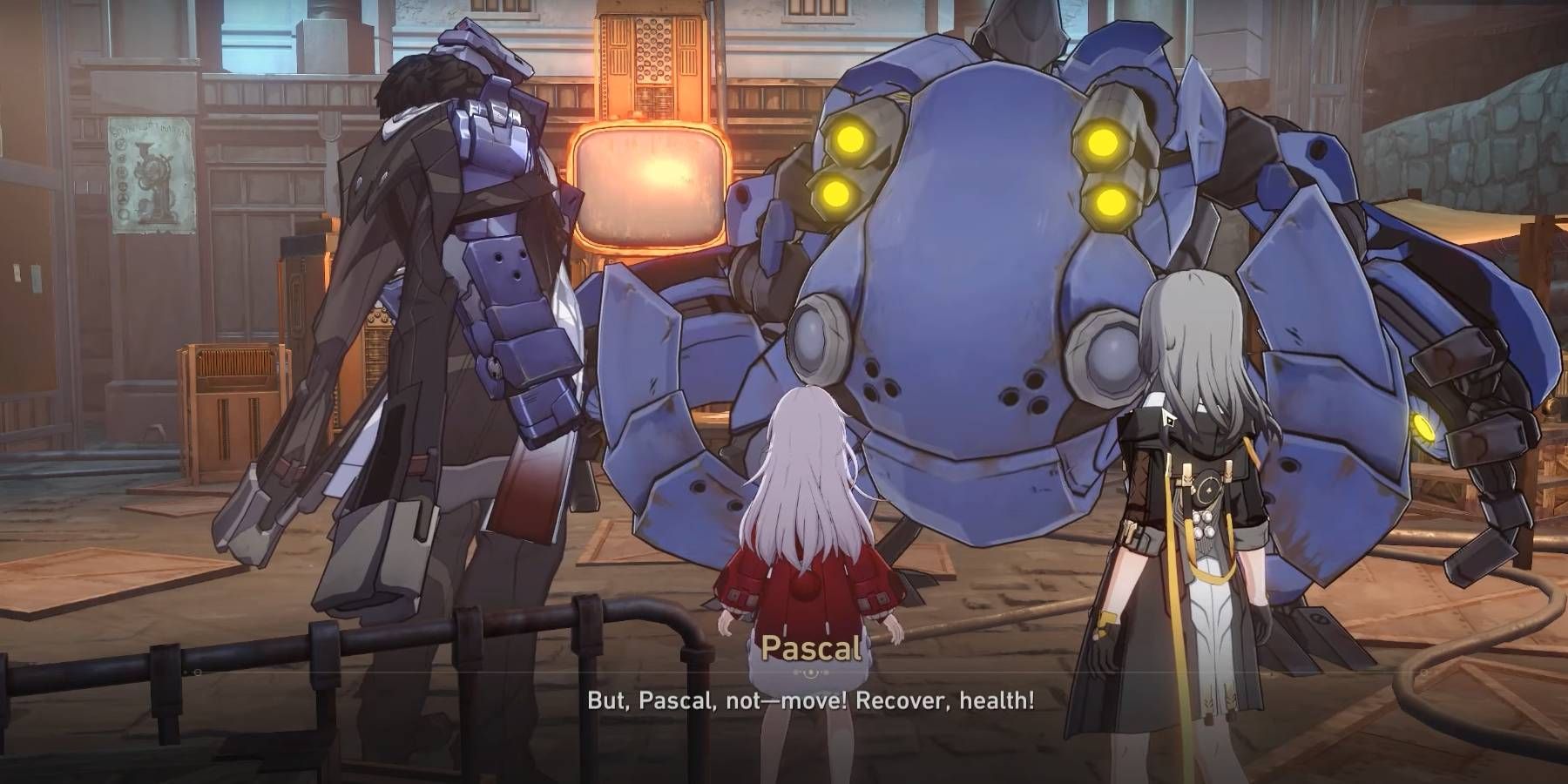 The player has complete control over Pascal's fate, with both choices leading to new dialogue and interactions with Savrog and Clara. Siding with Clara gives players the "The Lifecycle of Software Objects" achievement while following Savrog's advice earns the "For A Breath I Tarry" achievement. Depending on which choice was made, new side quests unlock, the "No One is Answering" mission for Clara and the "Wish You Were Here" quest for Savrog.
No matter what path players choose to follow, they recruit Clara to the Astral Express crew. A Destruction character, Clara's best builds in Honkai: Star Rail will undoubtedly help players against tougher enemies in the main story after they complete the Rarely Affectionate (Part 2) quest.
Platform:

PC, iOS, Android, Microsoft Windows

Developer:

HoYoverse

Publisher:

HoYoverse

Genre:

Turn-Based Strategy, RPG, Adventure

Multiplayer:

Online Multiplayer

ESRB:

Not Yet Rated

Summary:

Set after the events of the ongoing game Honkai Impact 3rd, Honkai: Star Rail is a turn-based online RPG from developer Hoyoverse. Two members of the Astral Express, March 7th and Dan Heng, are on their way to the Herta Space Station with precious cargo when ambushed by members of a group known as the Antimatter Legion. Chaos ensues as among them is the god of destruction known as Aeon, who steals a seed known as a Stellaron, which they implant in an artificial human known as the "Trailblazer." Players will assume the role of this character as they try to avoid their fate and save all of civilization. Similar to gacha-style games, players can acquire more characters to add to their party by summoning and engaging in fast-paced turn-based battles in this epic Sci-fi online RPG. 


This story originally appeared on Screenrant