NCIS: Los Angeles
SUNDAY: After 14 seasons and 322 episodes, the hit action spinoff ends its run on a celebratory note, with an on-the-fly wedding of Callen (Chris O'Donnell) and Anna (Bar Paly) bringing the team together even as they wrap their case with the ATF hunting for stolen military-grade weapons. What are the odds something will go boom before it's all over? Followed by an hour of retrospective nostalgia in A Salute to NCIS: Los Angeles (10/9c), hosted by Entertainment Tonight's Kevin Frazier as current and past cast members reflect on the long run with behind-the-scenes footage and memories.
Succession
SUNDAY: They come at long last to bury Logan Roy (Brian Cox), not necessarily to praise him, in another sensationally entertaining episode of the brutal drama, the penultimate hour-plus built around the public memorial to the late media magnate—an event marred by a still-unresolved presidential election and street protests that one family member describes as "a bit Tiananmen-ny." Will the Roys' hand-picked candidate Jeryd Mencken (Justin Kirk) show? Will Lukas Mattson (Alexander Skarsgård), the tech wiz whose merger the brother CEOs Kendall (Jeremy Strong) and Roman (Kieran Culkin) are trying to block while pregnant sister Shiv (Sarah Snook) works against them? The suspense is excruciating within the cathedral, where the eulogy doesn't go exactly as planned, and in the unruly streets of New York, where the Roys' media manipulations have caused havoc.
Barry
SUNDAY: Also a week away from its series finale, the pitch-black dramedy finds hitman Barry (Bill Hader) once again a prisoner, while Gene Cousineau (Henry Winkler) continues his crusade to stop the Barry Berkman movie—though he's impressed to learn who wants to play him. NoHo Hank (Anthony Carrigan) and the "Raven" known as Fuches (Stephen Root) are engaged in battle, and Sally (Sarah Goldberg) makes her way to L.A.. There's a lot to unpack in next week's finale, but let's give Gene the last word for now: "This is not a good guy/bad guy story. It goes way deeper than that."
Love to Love You, Donna Summer
SATURDAY: From "Bad Girls" to "Last Dance," disco queen Donna Summer defined an era of dance and excess in the 1970s and '80s. She was also a groundbreaker, the first Black female artist to debut on MTV with her chart-topping "She Works Hard for the Money." Behind the glamorous façade was a private woman who struggled to balance fame and family, a side shown in a personal, intimate biographical portrait co-directed by her daughter, Brooklyn Sudano, and award-winning filmmaker Roger Ross Williams. Her life story has a beat you can dance to till dawn.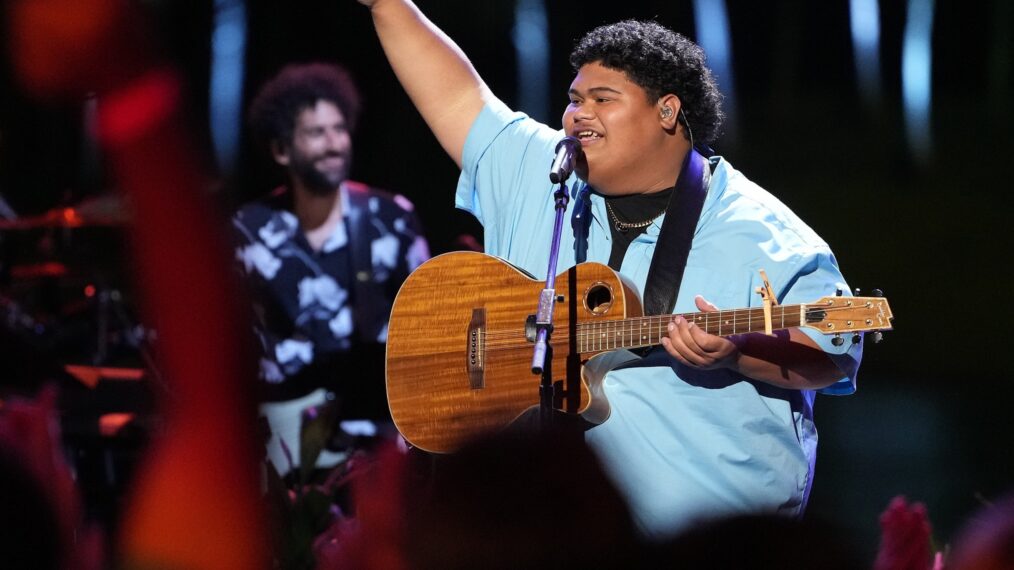 American Idol
SUNDAY: Airing live coast to coast, the three-hour grand finale of the musical talent search will crown either Megan Danielle, Iam Tongi or Colin Stough the Season 21 Idol. But in time-honored tradition, the reveal is preceded by many guest performances, including from judges Katy Perry, Lionel Richie and Luke Bryan, as well as Season 2 finalists Ruben Studdard (winner) and Clay Aiken (runner-up) in a 20th-anniversary reunion. Also expected to take the stage: Pitbull, TLC, REO Speedwagon's Kevin Cronin, Kylie Minogue, Jelly Roll, Ellie Goulding, James Blunt, Lainey Wilson, Jazmine Sullivan and Lauren Daigle.
Yellowjackets
SUNDAY: The psychodrama deepens, when news of the discovery of Adam's body ruins the mood of the survivors' reunion at Lottie's (Simone Kissell) wellness retreat, with adult Shauna (Melanie Lynskey) attempting damage control. In the past, the starving crash victims go to extremes to decide where their next meal will come from.
MORE SUNDAY FINALES:
INSIDE WEEKEND TV:
Cheers (Saturday, 10 am/ET, Pluto TV's Sitcom Legends channel): Marking the 30th anniversary of the beloved sitcom's historic series finale, the free digital channel presents every episode of the final 11th season in chronological order.
Love in Zion National: A National Park Romance (Saturday, 8/7c, Hallmark Channel): Cindy Busby stars as an assistant curator who heads to Utah's Zion National Park, where she meets a native Puebloan park ranger (David Gridley) who helps her prove a set of ancient vases belongs to the Pueblo Nation.
60 Minutes (Sunday, 7/6c, CBS): In the season's last original broadcast, Bill Whitaker investigates how U.S. defense contractors fleece the Pentagon and taxpayers, Sharyn Alfonsi exposes cybercrooks targeting seniors, and Anderson Cooper profiles artist Jeff Koons.
More public-affairs programming in CNN's The Whole Story with Anderson Cooper (Sunday, 8/7c), which revisits the Uvalde, Texas school shooting a year later; and Showtime's Vice (Sunday, 8/7c), with a report on Israeli prime minister Benjamin Netanyahu's controversial return to power.
Ghosts of Beirut (Sunday, 10/9c, Showtime): Blending dramatic recreation and journalistic interviews, a four-part spy docudrama depicts the CIA and Mossad's decades-long search for Lebanese terrorist Imad Mughniyeh. Jack Ryan's Dina Shahibi stars with Dermot Mulroney and Garret Dillahunt.



This story originally appeared on TV Insider