In early April, students in Planada, Calif., finally returned to their classrooms.
It had been three months since the early January flood that sent putrid brown water — filled with floating rodents and sewage — crashing into Planada Elementary School, destroying 27 classrooms, ruining thousands of books, and causing more than $12 million in damage.
Hundreds of elementary school students and staff — many displaced after losing their homes in the deluge — crammed onto the middle school campus across town.
Classrooms were shared. Space was cramped.
Families craved normalcy in the impoverished Merced County farm town of 4,000, which was inundated after Miles Creek burst its bank and busted through levees.
Construction crews worked at Planada Elementary seven days a week, sunup to sundown, said Supt. José González. And when youngsters returned to newly built classrooms last month, the town counted it as a win.
But even as they celebrated, they wondered: What if — when the state's massive snowpack melts this summer — the school floods again?
"That's the million-dollar question I can't answer," González said with a sigh.
"We're putting together contingency plans," he said. "I wish I had preventative plans. But I don't."
California's epic winter — with dozens of atmospheric-river-fueled storms, record-breaking snow in the Sierra Nevada, and prolonged flooding in the Central Valley — has wreaked havoc on small rural schools.
The costs have quickly added up: New roofs. New drywall. New carpet. Mold testing. Water quality testing.
In rural California — where the tax base is smaller and it is harder to pass local bonds for expenses like campus maintenance and improvement — facilities are aging. It is common for students to be learning in decades-old portable buildings that are especially vulnerable to storm damage.
Even as administrators have scrambled to figure out how to pay for the damage this winter and spring, they have, for the most part, kept school in session.
"It's been exhausting," said Molleen Barnes, the superintendent-principal at the Sunol Glen School in a rural swath of Alameda County.
On New Year's Eve, a creek that runs behind the school overflowed.
Floodwaters knocked three aging portable classrooms — which housed art and daycare programs — off their foundations and wrecked the playground. When the water receded, the campus was covered with mud 18 inches deep. Every building had to be tested for mold.
The school, which serves about 270 students from preschool through eighth grade, did not have flood insurance.
The January storm caused between $1.5 million and $2 million in damage, a cost that — for now — is being borne by the single-school district, which has an annual budget of $4 million, Barnes said. She hopes to get new "temporary portables" by August.
Barnes is in near constant contact with the Federal Emergency Management Agency and said she is hopeful the school will be reimbursed. But the uncertainty is stressful, she said.
"It's been emotional to see your school go through this, and to have on your plate the added need to work with FEMA and continue school and make kids feel like they're going to an amazing place," she said.
The Sunol Glen School was built in 1925, before floodplain maps, and the district has to prove — with expensive geological and hydrologic surveys — that it can build foundations for new buildings high enough to avoid future flooding, she said.
"In the hundred years we've been here, it's never flooded," Barnes said. "It's in the 100-year floodplain — so I guess that's why we flooded."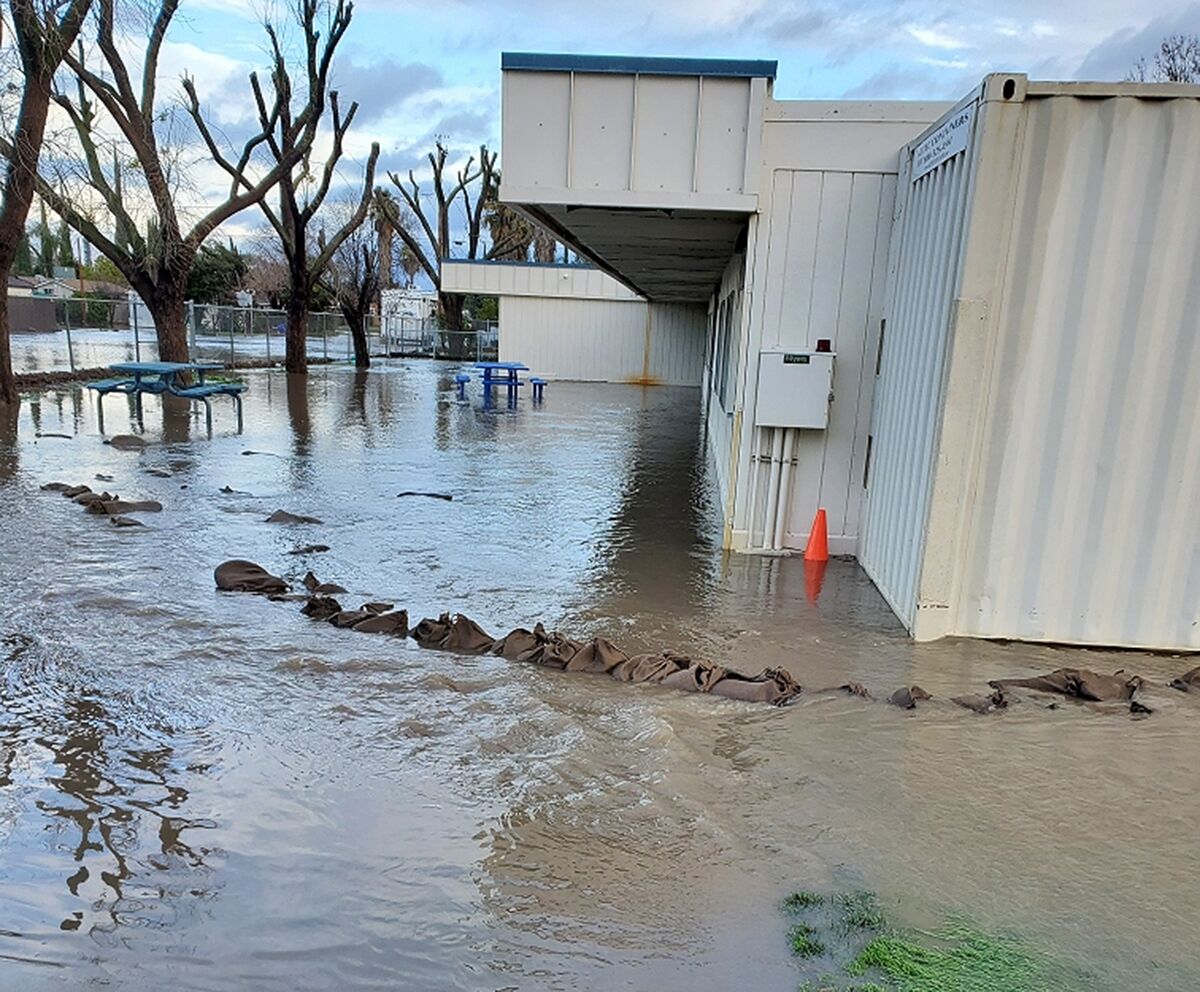 In Mariposa County, the tiny Yosemite National Park Elementary School — which has about 30 students whose families work in the park — was closed for four weeks in March and April.
There was so much snow around the schoolhouse that stormwater could not drain away from the building, said Jeff Aranguena, superintendent of the Mariposa County Unified School District.
Classrooms flooded. The waterlogged buildings had to be tested for mold, asbestos and lead. That process dragged on because storms kept hitting, closing roads and keeping inspectors away, Aranguena said.
For weeks, those students went to another school a half-hour drive west on Highway 140. But that road was sometimes blocked by rock slides, and the kids stayed home, with homework packets.
"Responding to natural disasters and man-made disasters has become the norm for small schools and districts throughout the state," said Jeff Harris, superintendent of the Del Norte County Unified School District.
"When you start having school closures or infrastructure damage because of storms, it really does impact the ability to provide a quality education to students."
In the state's foggy northwest corner, people are used to lots of rain — but the snow and ice this year were brutal, Harris said.
At Smith River Elementary, a large chunk of the roof had to be replaced after a February storm, he said. Staff were relocated for three months.
Back in Planada, portions of the elementary campus flooded back in 2018. The school did not have flood insurance then and paid $1.5 million to rebuilt its fifth grade wing and library, which were in portable buildings.
This time around, the school has flood insurance that pays for any damage not covered by state and federal emergency aid.
The rain didn't let up after the January flood. Every time there was an atmospheric river warning — and there were several — school staff put sandbags and plastic around every classroom.
"We went from being epidemiologists for COVID to meteorologists and hydrologists in 2023," González said.
Every time an atmospheric river warning came out, attendance dropped about 40%, González said. Staff stayed home.
"Families were reliving the trauma," he said.
What's frustrating, he said, is that students had finally started hitting a stride, with improved test scores after years of learning loss during the COVID-19 pandemic.
"We were seeing a lot of gains … and then we were just cut off at the knees with this situation."
In Planada, the schools play an outsized role. They serve three meals a day and provide students free telehealth appointments with physicians.
When it gets hot, the school will be a community cooling center, and it will be an evacuation center in other emergencies.
After the flood, classes were canceled for only eight days.
"When we're down, the whole community is down," González said. "We heard loud and clear that they needed us back."
In the little town of Firebaugh, 37 miles south, the schools have been spared this year, but administrators and staff are preparing for potential evacuations when the mountain snow melts.
Firebaugh, population 8,100, sits right next to the San Joaquin River.
A waterfront walking trail near one of the town's school campuses been underwater for months — something unthinkable last year, amid the drought.
"We're gonna make it through the rain," said Roy Mendiola, superintendent for the Firebaugh-Las Deltas Unified School District. "It's not the rain that's gonna be an issue. It's gonna be the snowmelt."
The school district does not have flood insurance.
Mendiola has advised families to keep a "go bag" filled with extra clothes, medication and important documents.
If the schools have to be evacuated, students will be bused to a warehouse where cantaloupe are packed and shipped, Mendiola said. School staff have stockpiled bottled water, snacks and first aid supplies.
"But here's the thing," he said. "With all the preparations, the evacuation plans, the communication, the precautionary measures, the stocking up on supplies — right now, we're just in a sit-and-wait situation."
The snowmelt, the water levels, the timing — it's all out of their hands.


This story originally appeared on LA Times