The proposal seemed simple: Change the length of winter vacation in Los Angeles public schools from three weeks to two. Students would have the same number of school days without losing so much learning momentum.
But the school board's recent decision to alter winter break and all it affects — the rhythm of lives and coveted time off — has provoked outrage and legal action, and also highlighted the important question of when children should be in school, how effectively time is used and how much say parents and teachers should have over it.
The calendar debate is not limited to Los Angeles or to the length and timing of breaks. Educators in several states, including Michigan and Florida, have explored year-round calendars with shorter but strategically spread out breaks to maximize learning. And in L.A., parents are still complaining about the mid-August start time, when the weather is the hottest and many families want to extend summer activities and travel.
For some, the three-week winter pause has provided an opportunity to recharge and spend time with family. For others, the extra week brings on child-care hassles, potential learning loss and an extended period without pay for low-wage, hourly school workers.
Supt. Alberto Carvalho says a shorter winter break is best. And the school board agreed with him in a unanimous vote on March 27.
The change will "serve students well, serve employees well and will go a long way in terms of better adapting to the needs of our families," said Carvalho. "Saying that, I recognize that [nothing] ever goes without some degree of controversy."
The decision is widely unpopular based on district surveys and passions expressed on social media and in communication with the school district. But school board President Jackie Goldberg said that she's siding with those she regards as the quieter minority of parents struggling to find child care and fulfill work demands.
She said she thought of "the parents last winter who said to me: 'I don't know what to do with my kids a third week. There were some parks stuff for the first two weeks because all the schools were out, but I didn't know what to do with my kids'" the third week. "'I have a job where, if I miss a day. I'm fired.'
"So, sometimes," Goldberg said, "it isn't the majority that gets to win."
Parents with more resources would adjust, she added.
Officials also said that L.A. Unified has generally been an outlier; the vast majority of school systems have a two-week break.
The passion over school calendars is long-standing, said Mark Slavkin, who served on the school board from 1989 to 1997.
"When I first experienced that, it surprised me," he said. "Like why should the calendar matter so much? But it was always charged because it gets directly to people's work schedule, family schedule, children's schedule — which is deeply personal to people. A lot of the school district stuff is kind of abstract, but the calendar is so real."
During his time on the board, the district began taking off Rosh Hashanah and Yom Kippur when they fell on school days — because so many teachers were absent.
When the current school board acted to shorten winter break, United Teachers Los Angeles, which represents teachers, counselors, nurses and librarians, immediately filed a charge with state labor regulators, characterizing the move as retaliation for union activity, including a recent strike. The union emphasized that, because the change affected working conditions, it had to be brought to bargaining under state law.
"The District unilaterally changed policy concerning a matter within the scope of representation, and violated its duty to negotiate in good faith with UTLA over such matters," according to documents filed with the state Public Employment Relations Board. The case is pending.
The number of teacher workdays is unchanged and the district's position has been that it will negotiate the "effects" of the calendar, but not the calendar itself.
"I'm a parent and a teacher," Tara Shokitano Lowery said in a post on the Parents Supporting Teachers Facebook page, which has more than 30,000 members, including many district employees. The third week "allowed us to finally relax from all the holiday celebrations. I need that down time to be refreshed for the second half of the year."
Teacher Aliza Friedenberg said the third week is needed to schedule medical and other appointments. "These are places that are closed the two weeks of the holidays. If I lose that week I will have to take days off to make those appointments," she said.
The three-week break also appears popular with members of other unions and parents.
More than 71% of parents who participated in surveys said they preferred the three-week break. There were 52,414 online surveys submitted; the official district enrollment is 422,276 — a response rate of 12.4%.
In public discussions, however, Goldberg expressed concern that the voluntary survey might not be representative of low-income parents — especially those less likely to fill out an online questionnaire.
The district then assembled focus groups, totaling 128 participants: 79% of them said they also favored the longer winter break.
"Why would we ever do a survey and get the answers and then ignore them all?" asked school board member Scott Schmerelson at the March meeting. He nonetheless accepted the proposed calendar.
The three-week vacation dates to a time when developing a district calendar was extraordinarily complex because of overcrowded campuses. Enrollment peaked at about 747,000 students in the early 2000s — and many were part of recent immigrant families.
"The district found out that a lot of its students went to visit family in Mexico and did not come back until the middle of what would today be the third week of the winter break," said former teachers union President John Perez, who is retired. Because state funding is mostly based on attendance, "with a two-week winter break, the district lost a lot of money."
Whether that dynamic would still apply is unknown in an era of decreased immigration, more difficult border crossings and enrollment that has declined more than 40%. Still, 3 in 4 students are Latino and many have strong immigrant roots. The ability to travel for the holidays remains important for some.
"A shorter vacation time during the holidays impacts me because I use this time to have my children spend time with family in Mexico," said Monica Arrazola, who has children at Le Conte Middle School and Hollywood High. "I want my children to know my culture, traditions, food and reinforce their Spanish."
Arrazola is a leader in the "Our Voice" group, whose membership comprises Latino parents — many who speak only Spanish.
Our Voice organizer Evelyn Aleman said informal conversations within her group suggested opinion was "right down the middle."
A year-round approach
The debate over the calendar takes in more momentous issues than the length of winter break. David G. Hornak, superintendent of Holt Public Schools in Michigan, said students would learn better with a year-round calendar — which could be tweaked, he added, to provide a little more time off for winter holidays or something similar to a traditional summer.
But summer, he added, should not be longer than eight weeks. Otherwise students risk significant learning loss — especially those whose families are already disadvantaged and unable to provide academic enrichment during the long break.
Hornak heads an organization advocating for year-round schooling and his school system has such a calendar.
"There is a more stable continuum of learning throughout the year," Hornak said. "At a time when there are not enough teachers, this model also recruits and retains teachers."
Formats include having 45 days on and 15 off. The time off can be used for academic catch-up or enrichment. Teachers have less difficulty scheduling appointments outside of school time, so fewer substitutes are needed, Hornak said.
Summer vacation has roots in children being needed to harvest crops — a factor that is largely outdated in developing an academic calendar, noted former U.S. Secretary of Education Arne Duncan.
Some children need more learning time routinely built into the calendar beyond the required minimums, especially in the wake of pandemic learning setbacks, he said.
"[We've] got to meet every kid where they are and figure out exactly what they need," Duncan said.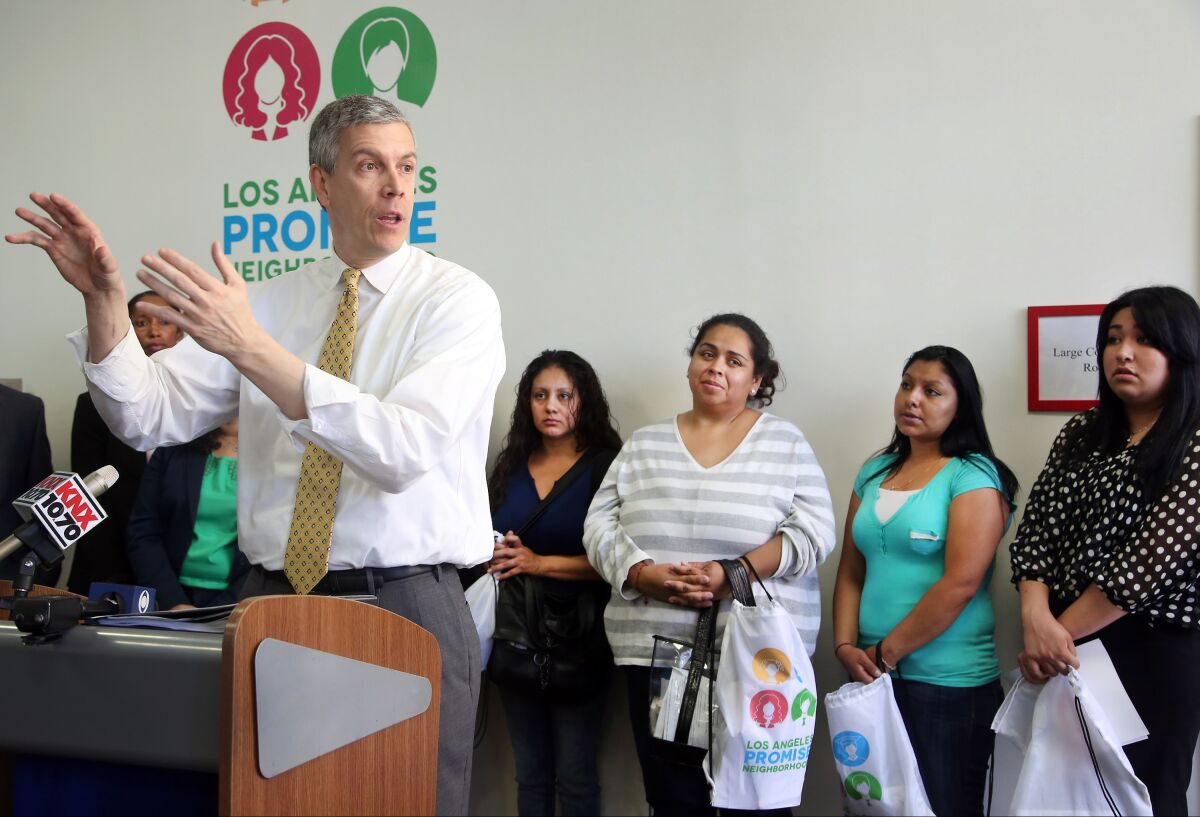 Better, not more learning time
L.A. school officials tried to build more mandatory time into the academic calendar but met with resistance from the teachers union and many parents. Their next step was to add optional learning days — two each during the winter and spring breaks. The vast majority of families did not participate.
"If the district can't teach a child with 180 days then it is the district who has failed and not the students nor the teachers!" said parent Frankie Bean.
In their presentation, district officials suggested that a shorter winter break — and an earlier end to the school year — might allow for more optional learning time in summer.
Education scholar Frederick M. Hess jumped into the calendar debate to urge schools to better use the time they have. He pointed to data indicating that "American kids already spend substantially more time in school than their peers in advanced nations — about 100 hours more per year, on average."
Large chunks of that time are lost to "disruptions, testing and teacher absence." Adding more time can be "a lazy, irresponsible answer to the amount of kids' time that's currently wasted."
Within L.A. Unified, opinions also rained down on the early to mid-August start time — which puts more classes into the region's hottest month, and fewer in much cooler June. But it also allows secondary students to complete their fall semester before winter break and to get in more school days ahead of Advanced Placement testing.
"I hate the early August start," said Heather Mayer, parent of two middle schoolers. "The heat in the Valley at that time of year is oppressive."
There is agreement on one distinctly American time off from school. Thanksgiving will remain a one-week break in L.A. Unified.


This story originally appeared on LA Times