The 2023 edition of the Coachella Valley Music and Arts Festival will be remembered first and foremost as the most diverse and inclusive in its history, with three nonwhite headliners — Bad Bunny, Blackpink and Frank Ocean — topping the bill. For many of the 120,000-plus concertgoers, it also banished whatever memories still lingered from the past few years, when COVID either canceled or marred the annual kickoff to spring/summer festival season. The live-music industry isn't out of the woods yet, but, brutal Wi-Fi service and traffic jams aside, the vibes were pretty immaculate this weekend at the Indio Polo Grounds.
As is custom, the festival starts all over again on Friday, with tickets still available. For those who are wondering what this weekend has in store for you, or just looking to catch up on what you missed, here are some of our favorite sets from Coachella.
Bad Bunny (Friday): The Puerto Rican superstar gave a marathon two-hour performance, fashioning reggaetón and trap numbers into four-on-the-floor house jams suited for a rave. Between costume changes, fans were treated to a history lesson on reggaetón, a narrated video montage that highlighted sounds that bubbled up from the Caribbean: son Cubano, bomba, salsa, as well as reggae from Jamaica and Panama, that were all woven into the sonic blend that eventually became reggaetón. Special guests included Post Malone, reggaeton vets Ñengo Flow, Jowell, Randy and rapper Jhayco. The first headining gig at Coachella by a Spanish-language artist was indeed historic — empowered by the passion of the Latino communities who continue to be affirmed, inspired and galvanized to action by Bad Bunny's victories. — Suzy Exposito
Blink-182 (Friday): The classic Blink lineup — singer-bassist Mark Hoppus, drummer Travis Barker and singer-guitarist Tom DeLonge — reunited for the first time in a decade for a last-minute set at the Sahara Tent. This came after they were forced to postpone their initial March comeback show in Tijuana due to Barker's ill-timed finger injury. (It was also the band's first show since Hoppus recovered from a life-threatening case of Stage 4 lymphoma.) They resuscitated classics like "Girl at the Rock Show" and "What's My Age Again?" and served a discourse on cancel culture, a phenomenon they miraculously avoided in the near 30 years since their inception. "We say, F— you, cancellation!" quipped DeLonge, to which Hoppus added, "We say, Just don't be a d—!" — S.E.
Muna (Friday): Muna threw a synth-pop dance party at the Mojave Tent, where fans across the gender spectrum cavorted in wholesome queer joy. Their set was crashed by indie-rock supergroup boygenius — Phoebe Bridgers (Muna's label boss), Julien Baker and Lucy Dacus — who lent their folky voices to Muna and Bridgers' 2022 delight, "Silk Chiffon." — S.E.
Yves Tumor (Friday): Whatever else the merits of avant-grade rocker Yves Tumor — and there are many — they won best-dressed act at Coachella. We have never seen tighter leather pants than the pair Tumor was poured into, a fitting compliment to their bleached, demon-spiked hair, sunglasses so dark they they sat like negative space and lithe stage moves that evoked David Bowie in his peak milk-and-peppers-only diet era. — August Brown
The Breeders (Saturday): Does it count as nostalgia if an old song makes you think about new things? Playing tunes from 1993's alt-rock classic "Last Splash," the Breeders were so tightly dialed in to their sound — seriously, no other band (or band-ish entity) was tighter over the weekend — that they made you realize how delightfully bizarre "Hag" and "New Year" and "Cannonball" are in a structural sense. Frontwoman Kim Deal, a true rock-vocal powerhouse at age 61, ended the band's set with a ripping version of "Gigantic" by her old group, the Pixies. — Mikael Wood
Ethel Cain (Saturday): One of the main reasons to attend Coachella is to catch rising acts just as the wave is about to crest. Case in point: Ethel Cain, the captivatingly eerie, 25-year-old singer-songwriter who performed at a packed Sonora Tent at the very un-Southern-Gothic hour of 4:30 p.m. Starting with the moody, vicious "Family Tree," Cain's grim rural noir took on the grandeur of festival rock. "A House in Nebraska" was probably the most ransacked ballad to hit the desert all weekend, but the Sonora crowd treated it like a magic-hour hit. And then there's "American Teenager," in the running for the best rock song of the 2020s. Cain played it early in the set, but it's the moment when she looks like she's having the most fun onstage, twirling and howling its hooks with a loopy fervor. It can't be easy to be a face-tatted young trans woman in Alabama these days, and Cain has earned every single moment of joy she takes from being onstage. — A.B.
Boygenius (Saturday): Award for best walk-on music of the weekend goes to boygenius, who set the mood for their exuberant Outdoor Theatre set with Thin Lizzy's "The Boys Are Back in Town," then kept that same energy with "$20" and "Satanist," the two highest-energy tunes from the indie-rock supergroup's excellent new debut, "The Record." After that, the trio of Phoebe Bridgers, Lucy Dacus and Julien Baker — each dressed in crisp black-and-white suits like a winking Reservoir Dog — mellowed out for the more Laurel Canyon-ish parts of their catalog. What's gratifying about seeing the band live is how intuitively the women blend their voices in complicated harmonies that physicalize the intimate friendships they sing about — a real (and rare) embodiment of the supergroup ideal. — M.W.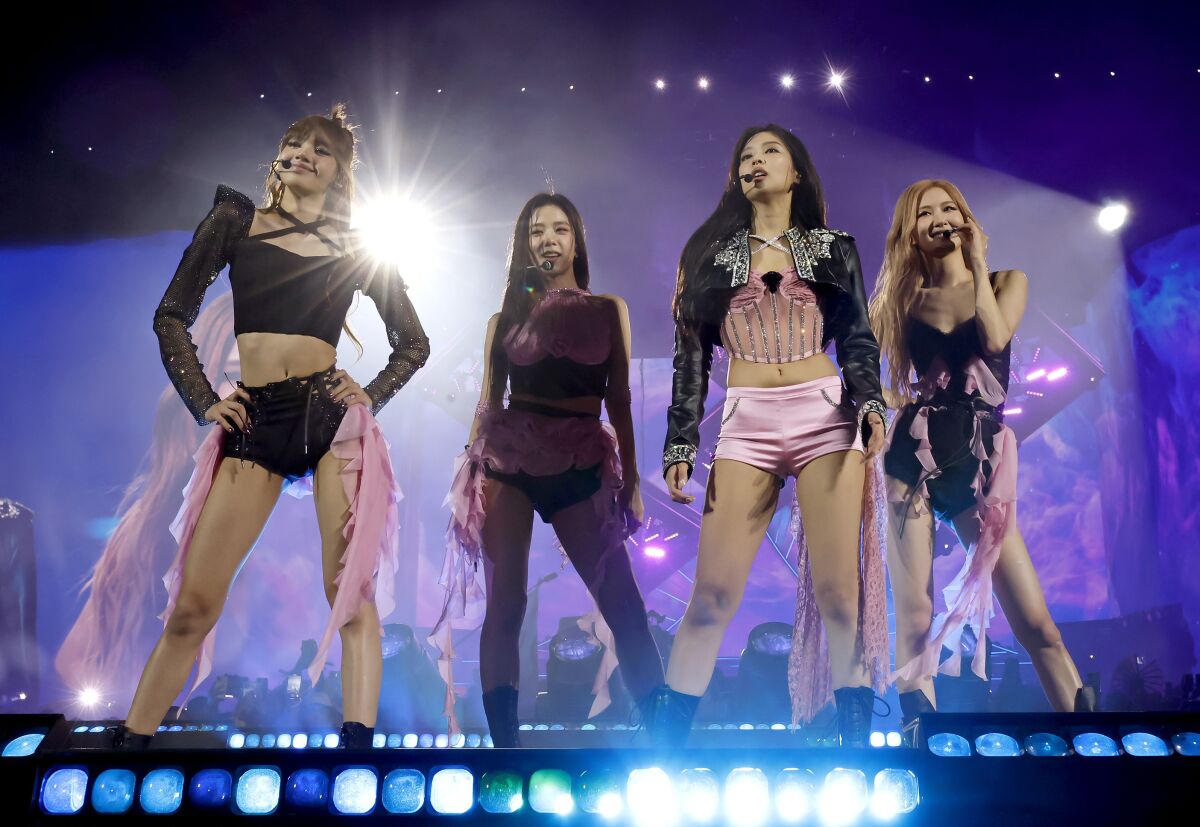 Blackpink (Saturday): Coachella is long removed from being an indie- and alt-rock-driven festival, having embraced pop and hip-hop for aesthetic, financial and generational reasons years back. But from the minute Blackpink counted down to "Pink Venom" after a formidable aerial drone swarm, their set felt different — a scale, skill and intensity of pop craftsmanship bigger than anything else that's graced this stage since Beyoncé made history in 2018.
Jennie, Rosé, Jisoo and Lisa easily nailed a mix of Coachella cool and K-pop razzle-dazzle, stomping and sassing beneath a towering temple roof and making the most of the gigantic stage. It's rare to see an act as good on its feet as its backup dancers, but Blackpink is in a class of its own as physical performers, too. Every finger flick, every hip thrust, every hair flip was choreographed to the microsecond. After Saturday night's set, even BTS' Jungkook (reportedly on the grounds Saturday) would probably admit: Blackpink is the best group in K-pop. — A.B.
Fousheé (Sunday): There's something deeply admirable about Fousheé's commitment to demolishing the Top-40 potential she had after writing one of last year's biggest hits, Steve Lacy's "Bad Habits." She's written and sung with Lil Wayne, James Blake, Lil Yachty and Vince Staples, but at Coachella, her set was rife with gnarled punk songs like "Stupid Bitch" (with its memorable hook, "I'll blow your brains out you stupid bitch") and "Deep End," where she taunted a man that "he can't afford me, he can't afford me." With a great backing band of long-haired Hessians and a few swirls of sampled atmospherics, the singer, dressed in a black-and-chrome bondage skirt, got a perverse glee out of upending expectations. — A.B.
Weyes Blood (Sunday): Long a veteran of bicoastal noise scenes, the singer born Natalie Mering has finally achieved the deserved career liftoff she's been looking for. Her 2019 Sub Pop debut "Titanic Rising" was a career best, and its follow-up "And in the Darkness, Hearts Aglow" moved the needle even further with its wispy, transcendental vibes and church-reared vocals.
Even when the music turned more somber, she had a wry humor about the whole gig. "Now we're gonna start the rave portion of the set," she told her audience, pointing to her head. "It's not dark yet but it can be dark up here, if you know what I mean."
Then came "Twin Flame," a decidedly un-ravey torch tune that nonetheless brought bystanders into the tent to hear what the roars were about. Watching your career leap a few tiers in influence can be daunting; What a treat to see Mering having such a silly, upbeat go of it. — A.B.
Kali Uchis (Sunday): Under the magical glow of golden hour, Colombian American chanteuse Kali Uchis hosted an ultra-femme dream disco party as the sun began to set at the Coachella stage. Dolled up in denim, the Grammy-winning singer-songwriter entranced the crowd with her R&B balladry, performing her songs with the coy, Old Hollywood allure of burlesque icons. Kali then lifted the mood with her Kaytranada-assisted song "10%," and welcomed her talented besties Tyler, the Creator and Omar Apollo as her esteemed guests of the evening. She then wedged in a medley of reggaetón tributes, including covers of El General's "Rica y Apretadita" and Lorna's "Papi Chulo… Te Traigo el Mmmm" — and eased into a sumptuous bolero track from what she says will be her upcoming album in Spanish, the follow-up to her stellar 2023 LP "Red Moon in Venus." — S.E.
Björk (Sunday): The experimental songstress surfaced in a spiky gown, radiating like a sparkling urchin in the dark. A cluster of glowing drones hovered above the Coachella stage, moving in sync with the orchestra as it swerved its strings to follow the acrobatic maneuvers of her voice. She revived her song "I've Seen It All," the Oscar-nominated track she famously wrote for the 2000 film "Dancer in the Dark," and closed with an enchanting rendition of "Hyperballad." The crowd chanted "Orchestra! Orchestra!" to which the orchestra duly replied with an exquisite instrumental encore. — S.E.
Frank Ocean (Sunday): Even though it started almost an hour late — and was apparently cut short as a result of the festival's curfew — this was perhaps the most elaborately conceived Coachella performance since Beyoncé's game-changing set in 2018. Not that they shared anything structurally: Where Beyoncé went maximal in her ode to historically Black colleges and universities, Ocean went starkly minimal, emphasizing the idea of intimacy in his recollection of his late brother, who died in a car accident at age 18. Yet the way the show rescaled the dimensions of a headlining festival gig felt like a radical provocation.
Ocean and a band of three musicians performed inside a small chamber tucked behind a massive high-def video screen that showed artfully composed close-ups of the players as they moved amid hulking piles of gear; much of the audience couldn't even see inside the chamber, whose walls flickered with projections, which meant that many people experienced the concert as a kind of movie.
And for probably one-third of the 90-minute gig, Ocean didn't even sing: Partway through, a DJ he identified as Crystal Mess started spinning records, including some of Ocean's own, accompanied by footage of a man dressed like a security guard twerking against the stage. "You came to see Frank Ocean and you got a little rave mix in the middle of the show," the singer said. At another point, Ocean introduced a kid named Josiah who sat down behind an electric piano and lip-synced to Frank singing Willie Nelson's "Night Life."
The result was willfully enigmatic even as it reaffirmed Ocean's core talents as a teller of complicated stories. — M.W.


This story originally appeared on LA Times