John Wayne became an icon over the course of his career, particularly for his roles in war and great Western movies throughout Hollywood's Golden Age. Fans of the actor affectionately refer to him as The Duke, which is a nickname that stuck with him since his childhood. As a young boy, his best friend was his dog Duke, and when he befriended a local firefighter, who called the dog Big Duke and Wayne Little Duke, the nickname stuck, with Wayne actually preferring it to his real full name, Marion Robert Morrison.
His career skyrocketed, and now he is one of the biggest names in the Western genre, becoming nearly synonymous with the American mythos of the Wild West, frontier adventure, and the film genre in general. A fitting persona since the actor himself was a rancher in Arizona and had decent shooting skills. The Duke starred in over 165 movies, many of which instantly became huge successes and have stood the test of time.
Update May 25, 2023: This article has been updated by Mona Bassil with more information and additional entries.
Even though he is considered problematic by some audiences because of his sociopolitical beliefs and was known for being difficult on set, to this day, people still can't get enough of his films' charismatic, rogue, and heroic characters. His cowboy swagger is just one of many reasons they keep going back to the actor's extensive filmography, but which of them are the most rewatchable, all of those decades later?
11
In Harm's Way (1965)
In Harm's Way is both a romance and a war film, focusing on a few American Naval Officers in the aftermath of Pearl Harbor. Wayne plays the divorced and disgraced Naval Captain Rockwell W. "Rock" Torrey, who was stripped from his command for not adhering to the rules of combat and obeying orders. He sets up to redeem himself by successfully completing the invasion of Levu-Vana and preventing more Japanese advances. Also starring are Kirk Douglas as Paul Eddington, Tom Tryon as William "Mac" McConnell, Paula Prentiss as Beverly McConnell, and Brandon deWilde as Jeremiah Torrey.
10
The Alamo (1960)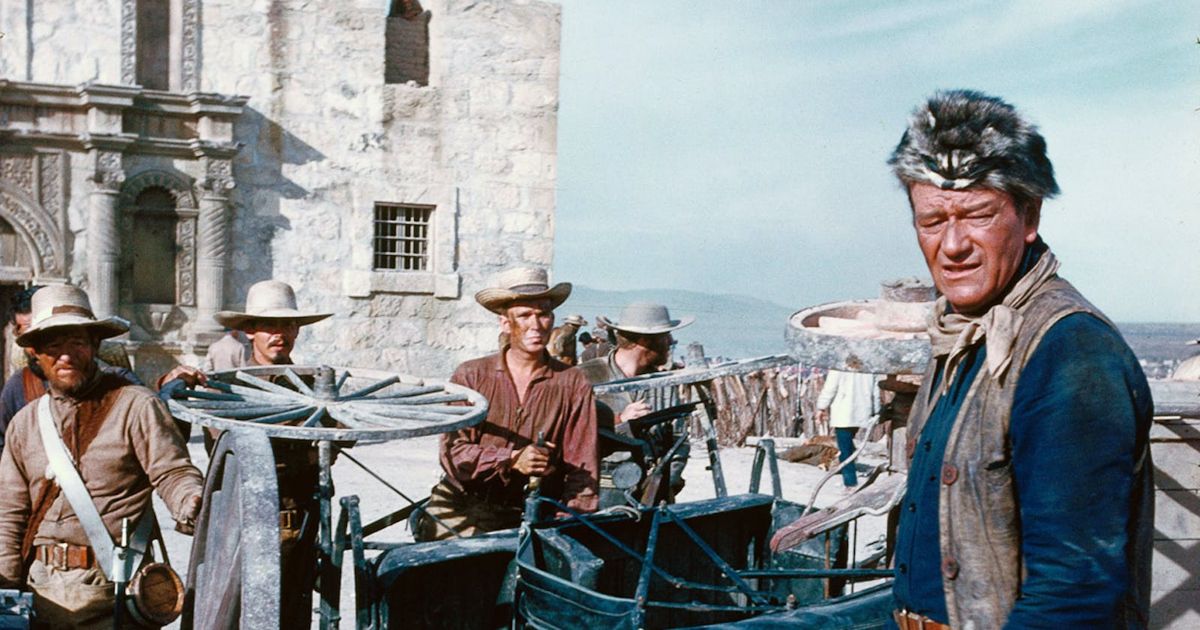 Written by James Edward Grant, The Alamo was a film that the actor decided to both direct and star in way back in 1945. Based on the true story of the infamous Battle of the Alamo, Wayne stars as the legendary Davy Crockett, who assisted a group of soldiers defending themselves against Gen. Santa Anna (Richard Boone, who definitely wasn't Mexican) in the battle of the Alamo.
Related: Best Western Movies of All Time, Ranked
We are given all the tense, action-packed fighting scenes that we love so much about Westerns, with a bit of an educational purpose on the way many Americans perceived the Battle of the Alamo. The film, of course, is rather historically inaccurate and glorifies the American occupation when in reality, the soldiers were illegally invading and colonizing Mexico. This Western was nominated for a whopping seven Oscars, including Best Picture. The Alamo can be seen as a classic, and its fights and story never get old, so of course, we go back to it every now and then.
9
The Quiet Man (1952)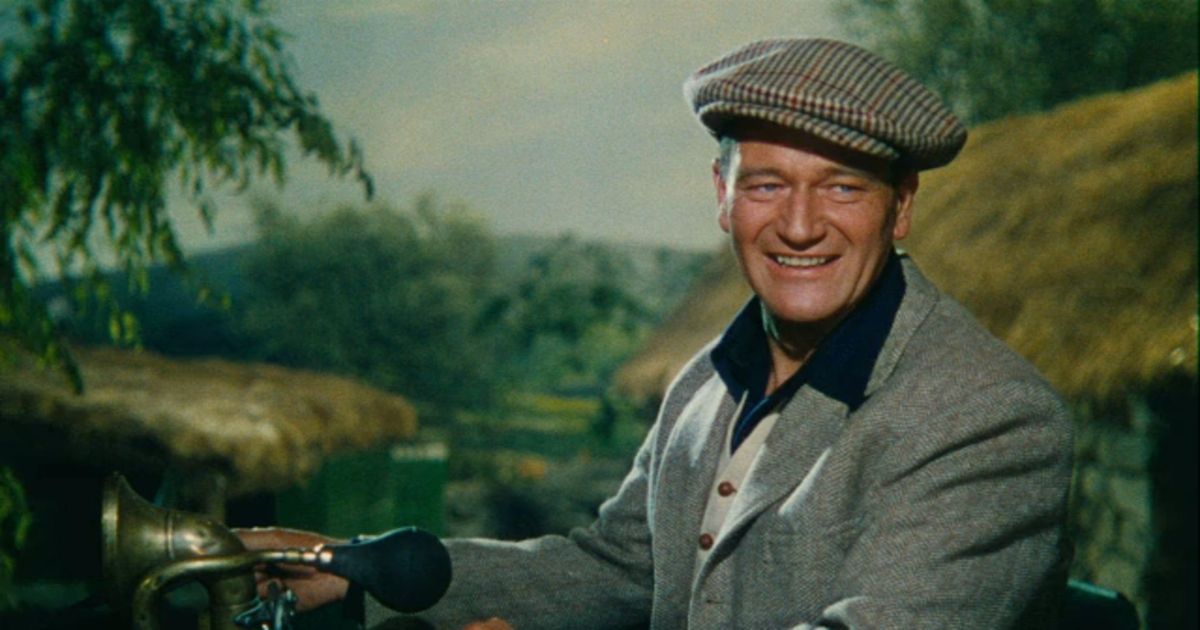 Directed by John Ford and inspired by a 1933 Saturday Evening Post story written by Maurice Walsh, The Quiet Man is a romantic dramedy set in the picturesque Irish countryside and stars Wayne alongside Maureen O'Hara, Barry Fitzgerald, Ward Bond, Victor McLaglen, Mildred Natwick, and Francis Ford. The story follows Sean, an ex-boxer who leaves the U.S. to return to his home in the small Irish village of Inisfree. There, he falls for the feisty shepherdess Mary Kate. One of the movie's most amusing scenes is a brawl between Sean and Mary's vindictive brother.
8
3 Godfathers (1948)
A lesser-known John Ford film, 3 Godfathers is adapted from a novelette by Peter B. Kyne and features Wayne, Harry Carey, Jr., Pedro Armendariz, Mildred Natwick, Mae Marsh, Jane Darwell, and Ben Johnson. This sentimental dramedy flick follows three wanted bank robbers with a heart of gold who reluctantly care for a dying woman's newborn baby boy. The film's light humor, paired with the rare and precious heartfelt performance by Wayne, makes it worth a watch.
7
Chisum (1970)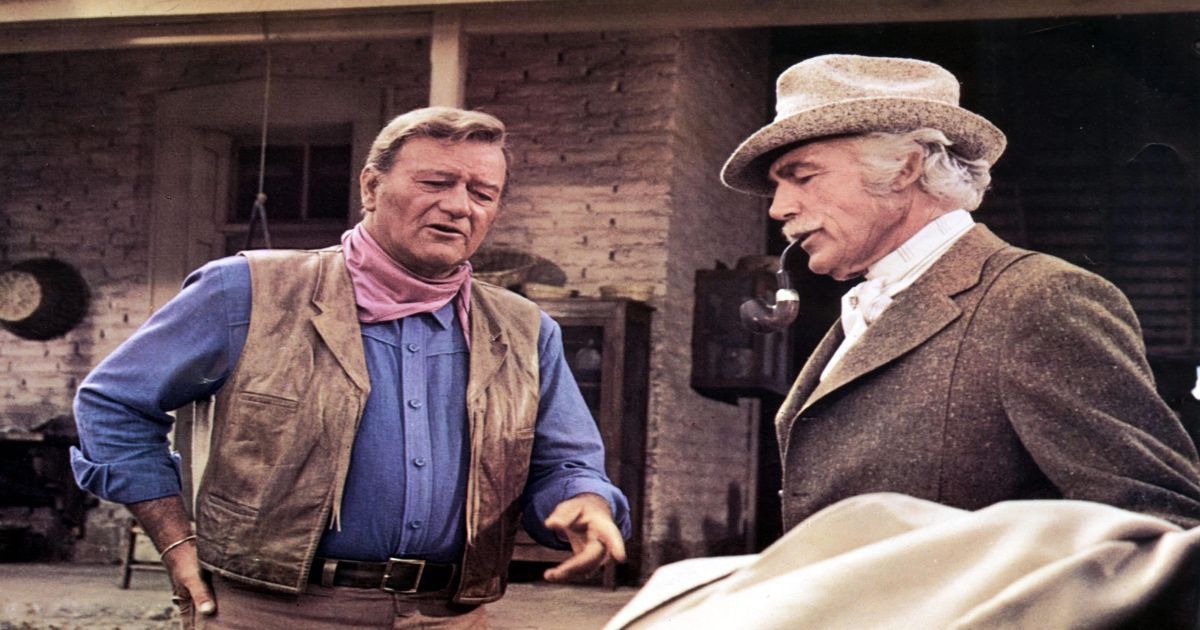 Based on the Lincoln County War of 1878, and also adapted for the screen by Andrew J. Fenady from his short story titled Chisum and the Lincoln County War, Chisum follows John Chisum (Wayne), who owns a large ranch in Lincoln, New Mexico. It wouldn't be the same without his sidekick and helper, James Pepper (Ben Johnson). Together with other skilled gunmen, including the infamous Billy the Kid (Geoffrey Deuel), they get involved in fighting the land developer Lawrence Murphy (Forrest Tucker), who has practically bought the whole town and now has eyes on Chisum's ranch, too.
The movieis surprisingly complex and detailed, leading to a good old showdown, filled with historical context (and numerous real historical figures) and brilliant cinematography. Once you understand the complex plot and are able to pinpoint the massive ensemble cast, the film just gets better after each viewing.
6
She Wore a Yellow Ribbon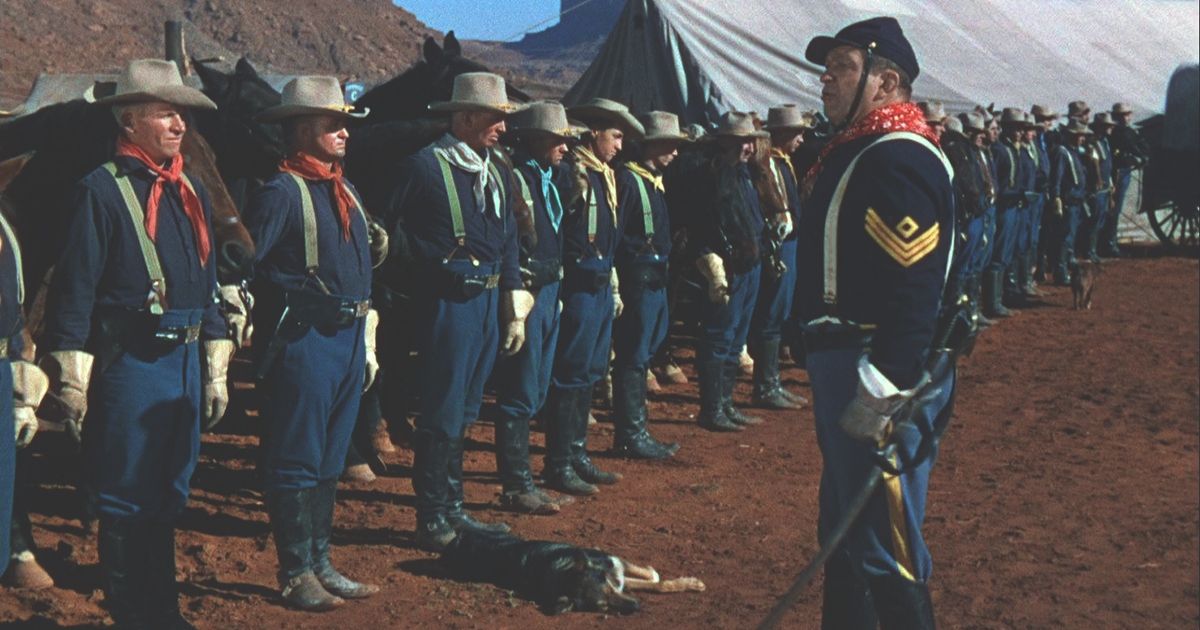 The visually stunning 1949 American Technicolor film She Wore a Yellow Ribbon was one of the most expensive Westerns made at the time. It was part of the great John Ford's 'cavalry trilogy', and Wayne gave one of his best performances, starring as Nathan Brittles. Brittles is a retiring US Cavalry Captain, set to venture on one last patrol to protect his troops from an attack led by the Natives. As he bravely leads his men into the battle, his commanding officer, Major Mac Allshard, orders him to deliver his wife Abby and niece Olivia to Sutross Wells.
As a tale of honor and young love, we see that despite wearing a yellow ribbon in her hair (which is a sign that her heart is promised to another man in the Cavalry), Olivia catches the eyes of two young officers, who then compete for her attention. While Wayne's performance received both critical and public acclaim, the film won an Oscar for Winston C. Hoch's masterful Technicolor cinematography.
5
Red River (1948)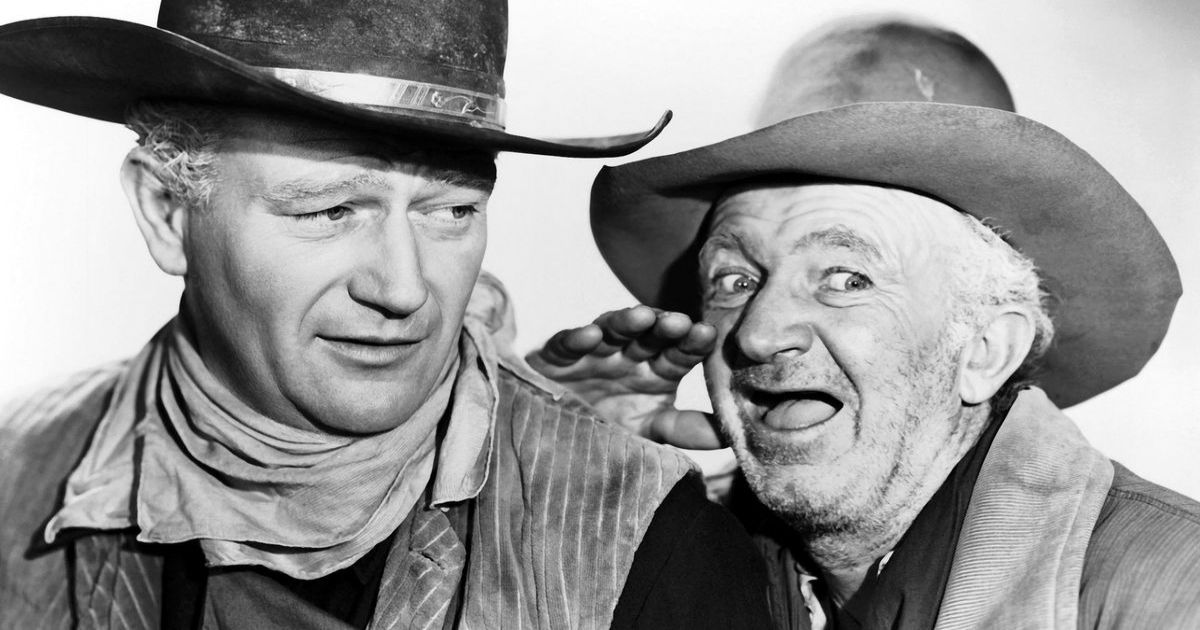 Red River, directed by Howard Hawks, tells an epic, entertaining story about the first cattle drive along the Chisholm Trail. The film follows Wayne as Thomas Dunson, who sets up a cattle ranch that quickly becomes a thriving success. Though he couldn't have done it without help from his trial hand Groot (Walter Brennan), as well as Matt Garth (Montgomery Clift), who is an orphan that Dunson kindly took in when he was a young boy. Unfortunately, the Civil War left Dunson and Matt with serious financial problems, so they set up to lead a cattle drive to Missouri for a better chance of earning some more money.
But their journey isn't all hunky-dory, as they bump into various challenges along the way. Red River is more complex than your average Western shoot-em-up; it is essentially a sprawling and visually stunning drama about the West rather than a straightforward action flick. The film also works wonders as a tale of the rocky relationship between father and son, who don't quite see eye-to-eye, and that is perhaps another reason for it being still relatable and rewatchable.
4
Sands of Iwo Jima (1949)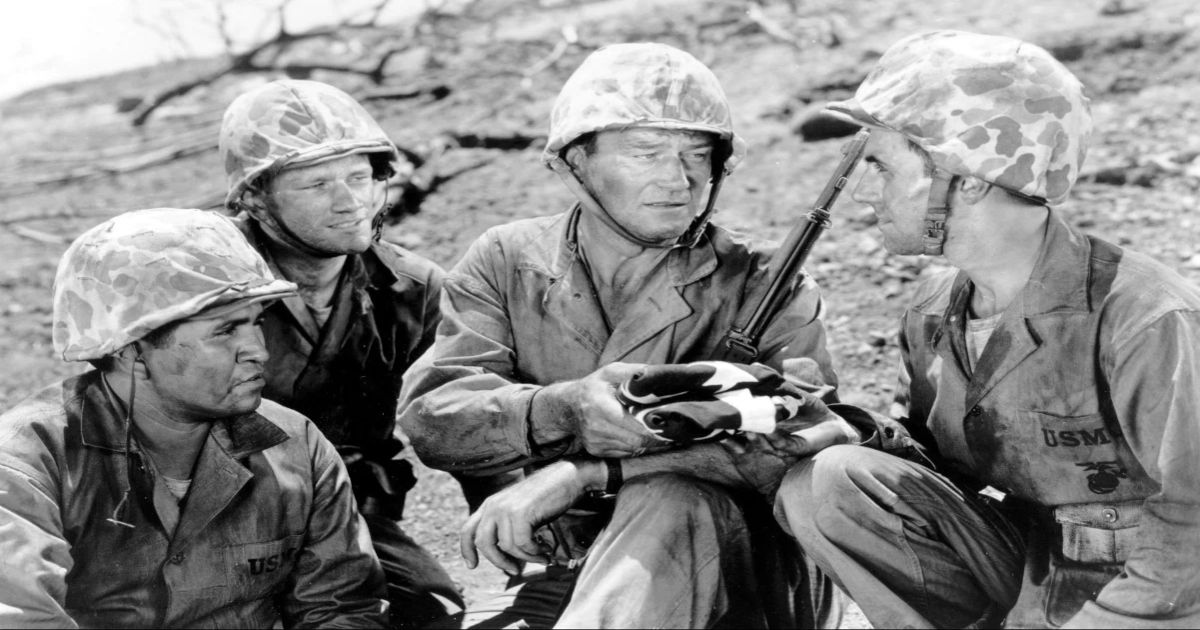 The 1949 war classic film Sands of Iwo Jima, directed by Allan Dwan, follows Wayne as Marine Sgt. John Stryker, who is sick of the attitude he gets from his men about his tough training techniques. As the war goes on, the soldiers actually begin to accept and respect Stryker's view on the conflict and even tolerate his hard and actually quite brutal training method. They come to realize that it will be in their favor to listen to him, and they will need his experienced tactics in order to survive the war.
Considered one of the earliest post-war films dramatizing the plight of American soldiers overseas, the film chronicles one of the deadliest and bloodiest events in World War 2, known as the Battle of Iwo Jima. Wayne does a brilliant job as Stryker, the hero of the story, even if he came out a little too harsh, in what is an exciting, action-packed movie that also shines a light on the soldiers in the true story who sacrificed their lives for the cause. The Sands of Iwo Jima is a great re-watch, especially as a Memorial Day movie.
3
The Cowboys (1972)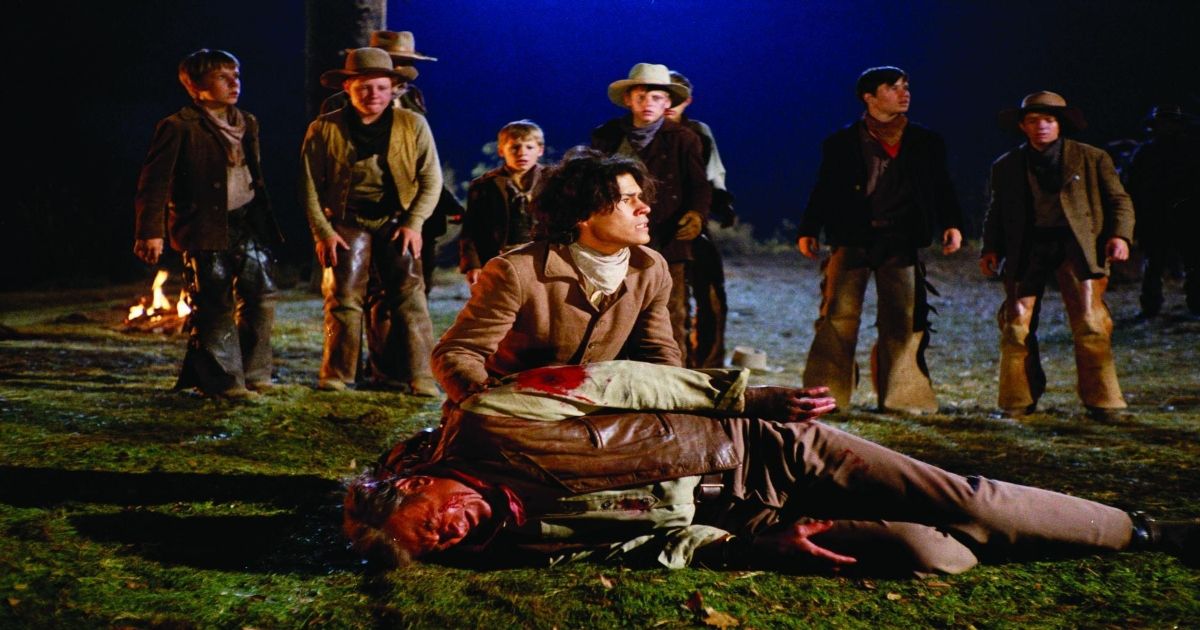 Based on William Dale Jennings' 1971 novel of the same name, The Cowboys includes one of the best villain and hero death scenes we have been given in the Western genre, and that in itself already makes it totally re-watchable. When Wil Andersen (Wayne) asks a group of 11 schoolboys for help driving his cattle to the market, they are bombarded by thieves and cattle rustlers, which ultimately leads to a dramatic brawl and shootout.
No one likes to see the hero of a story die, but we can't deny that it's captivating; as Andersen is lying mortally wounded, his blood is seen flowing on the hands of the main antagonist Asa "Long Hair" Watts (Bruce Dern).
Related: Underrated John Wayne Movies, Ranked
The death of Wayne's character is emotional and heartbreaking after he grew so close to the boys who helped him on his journey, especially since they even began to see him as a father figure. After his demise, the boys finish the trip by themselves and carve into their former leader's gravestone, 'Beloved Husband and Father,' making the movie's ending all the more poignant. No matter how many times audiences view this movie, they are still touched by this certified tearjerker of a story.
2
The Man Who Shot Liberty Valance (1962)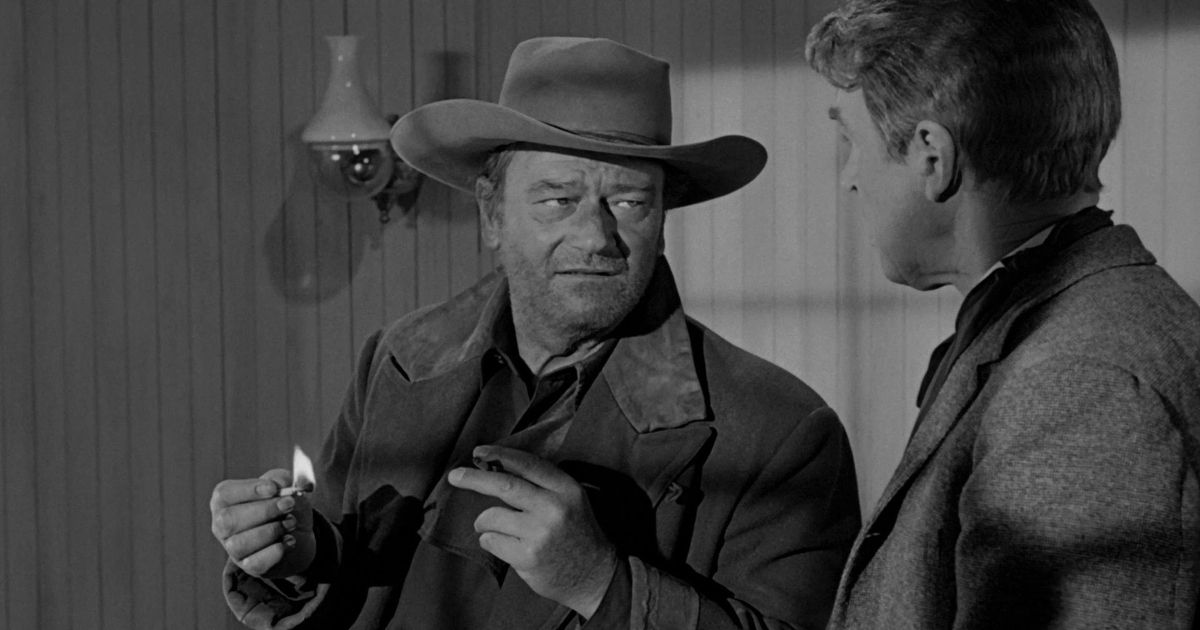 The Man Who Shot Liberty Valance is perhaps one of the most well-known, ultimate classic Western movies in cinema. Directed by the fantastic John Ford and starring an amazing cast that includes the great James Stewart, Vera Miles, Lee Marvin, and of course, Wayne. The movie follows the story of Senator Stoddard, who, with his wife, Hallie, attends the funeral of Tom Doniphon. When people ask him why he would honor such a modest rancher, the audience then learns his background story with the deceased. It's a tale of friendship and revenge.
The plot is told through flashbacks, as he recalls the time when Doniphon saved him from a local outlaw, Liberty Valance, who beat him up with his gang and robbed him. The rancher and his girlfriend took him in and nursed him back to health. More stories and questions unfold of the protagonists' involvement as joint enemies of Valance's. The brilliant cast, the charismatic on-screen relationships, the slow-built tension, and the overall drama make this movie an easy watch and a brilliant story to follow. It definitely goes down as a classic, one of the last old-school greats of the genre.
1
True Grit (1969)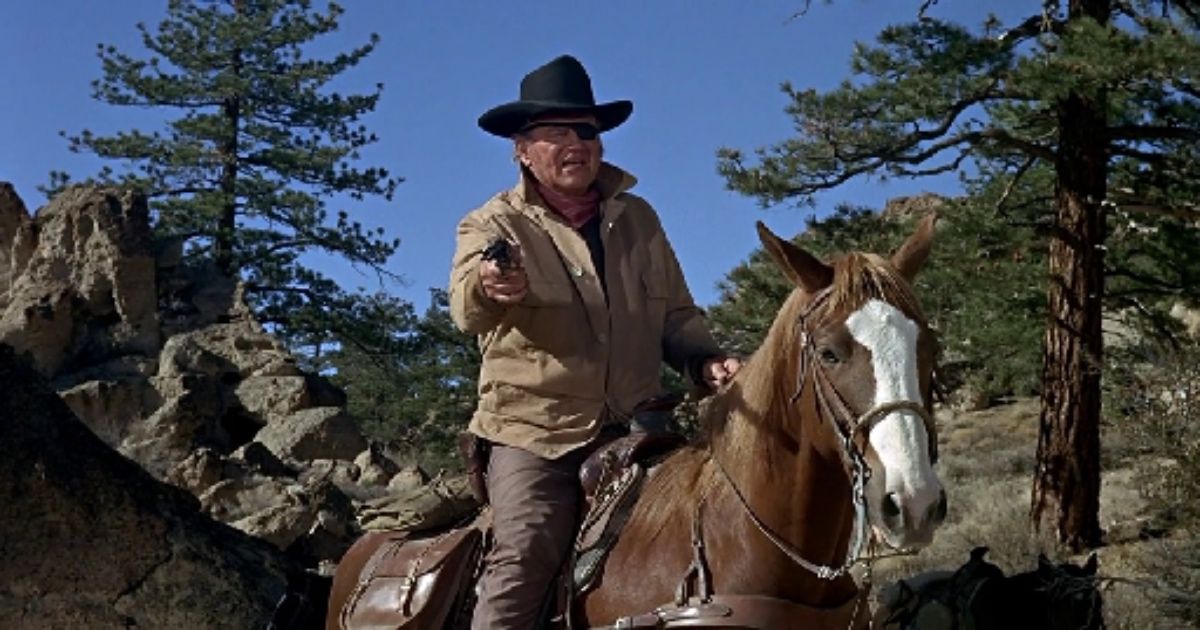 Directed by Henry Hathaway, 1969's True Grit is the first movie adaptation of Charles Portis' 1968 novel of the same name, which would later be adapted into a 2010 remake by the Coen Brothers. The story follows 14-year-old Mattie Ross (Kim Darby), whose father has just been murdered. Distraught and fueled with feelings of revenge, she hires Rooster Cogburn (Wayne) to find the man responsible and bring him to justice. Along their dangerous journey, a Texas Ranger, La Boeuf (Glenn Campbell), also joins in with the hopes of earning some reward money.
Wayne won the Oscar for Best Actor for his role in True Grit, which is arguably his most beloved and eccentric character and a certified scene-stealer. Wayne would die ten years later, and he left behind an incredible film career filled with iconic roles, with Roster Cogburn being his most iconic.


This story originally appeared on Movieweb