After a tight race between Turkey's main presidential candidates, voters will return to the polls in two weeks to vote again on who will lead the country. 
The election has gone to a run-off vote – so what does that mean?
What is a run-off election?
A run-off election happens when no candidate wins a clear majority in the first round – which is usually determined by a country's constitution.
The candidates who received the highest number of votes progress to a second vote.
In Turkey's case, the run-off vote will happen two weeks after the first round, on 28 May.
What is happening in Turkey?
Turkey's presidential election will go to a run-off after the two main candidates failed to clear the 50% threshold that would have put them in power.
With 99.4% of the domestic votes and 84% of the overseas votes counted, Recep Tayyip Erdogan had 49.4% of the votes and Kemal Kilicdaroglu had 45%.
Turkey: A tie between candidates

What has a kingmaker got to do with it?
The second round eliminates candidates who got a lower share of the vote – but they can still have a crucial part to play in the run-off elections by endorsing one of the candidates.
In Turkey, the kingmaker is Sinan Ogan. He came third in the presidential race with 5.2% of the vote – a share that could make a big difference to either Mr Erdogan or Mr Kilicdaroglu.
Mr Ogan was the candidate for ATA, an alliance of Turkish ultra-nationalist parties led by the Victory Party, which is known for its anti-immigrant stance.
He said his goal was to remove two mainly Kurdish parties from Turkey's "political equation".
Both presidential candidates have been endorsed by Kurdish parties; Mr Kilicdaroglu by the pro-Kurdish HDP and Mr Erdogan by the Kurdish-Islamist Huda-Par.
Mr Ogan said he had not met either of the presidential candidates since the vote but signalled he would be open for negotiation "based on their principles".
If he lent his support to either of the two candidates in the run-off, the 5.2% who supported him on Sunday could push Mr Kilicdaroglu into the lead or make Mr Erdogan unreachable.
Read more:
Turkey's voters are undecided – a joker in the pack may choose for them
Presidential race goes to run-off after Erdogan falls short of majority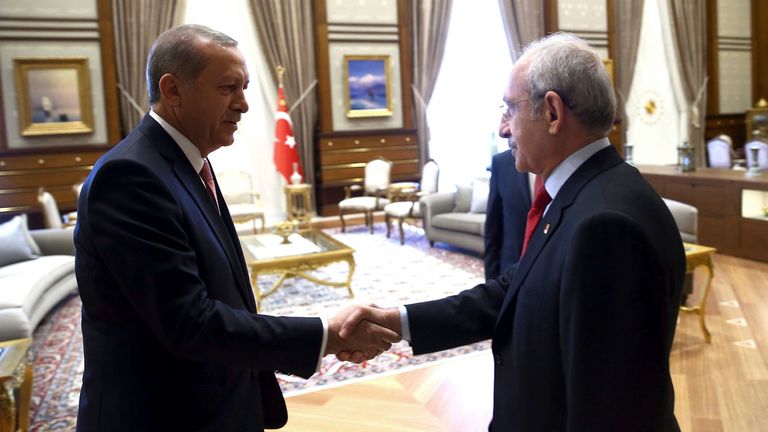 Which countries use run-off elections?
The two-round system is used by 84 countries to choose their heads of state.
Brazil saw a highly polarised run-off election last year when far-right incumbent Jair Bolsonaro went up against Luiz Inacio Lula da Silva, who won.
In Chile's 2021 election, far-right and social-democratic candidates faced off in a run-off vote, with leftist Gabriel Boric winning 56% of the vote.
Ukrainian president Volodymyr Zelenskyy was elected through a run-off, which he won with 73% of the vote.


This story originally appeared on Skynews