Criminal Minds has seen many of its most popular characters leave, among them Emily Prentiss (Paget Brewster), who left the series and later returned… twice. The branch of police crime drama is one of the most popular ones in the world of TV, and among its most successful and beloved titles is Criminal Minds. Created by Jeff Davis, Criminal Minds aired from 2005 to 2020, but it was revived in 2022, and its popularity hasn't died down, even if its main cast has gone through various changes.
Criminal Minds follows a group of criminal profilers working for the FBI at its Behavioral Analysis Unit, where they use behavioral analysis and profiling to investigate and solve chilling but intriguing crimes. In addition to solving crimes, Criminal Minds also takes a look at the personal struggles of each BAU member, allowing the audience to connect and relate to them. However, the main cast has gone through major changes over the years, with many beloved characters leaving the show at some point, though some of them have had the chance to return, as is the case of Paget Brewster's Emily Prentiss, who left and returned to Criminal Minds twice, for very different reasons.
Paget Brewster Was Saved From A Criminal Minds Exit
Emily Prentiss joined the Criminal Minds BAU team in season 2, first appearing in the episode "The Last Word", and she arrived as a replacement for Agent Elle Greenaway (Lola Glaudini). Although Emily is level-headed and calm, she sometimes lets her emotions get the better of her, and she shows a lot of empathy for the victims, all of this being key to her becoming a fan-favorite character. Prentiss was a main character in Criminal Minds until the sixth season when her role was reduced, with Brewster later revealing that the decision was due to creative and financial reasons, while A.J Cook, who played Jennifer "JJ" Jareau, was fired. Brewster was eventually released from her contract as well due to financial reasons, but she (and Cook) was later rehired due to fan demand, and so Emily Prentiss returned for Criminal Minds season 7.
Why Paget Brewster Returned To Criminal Minds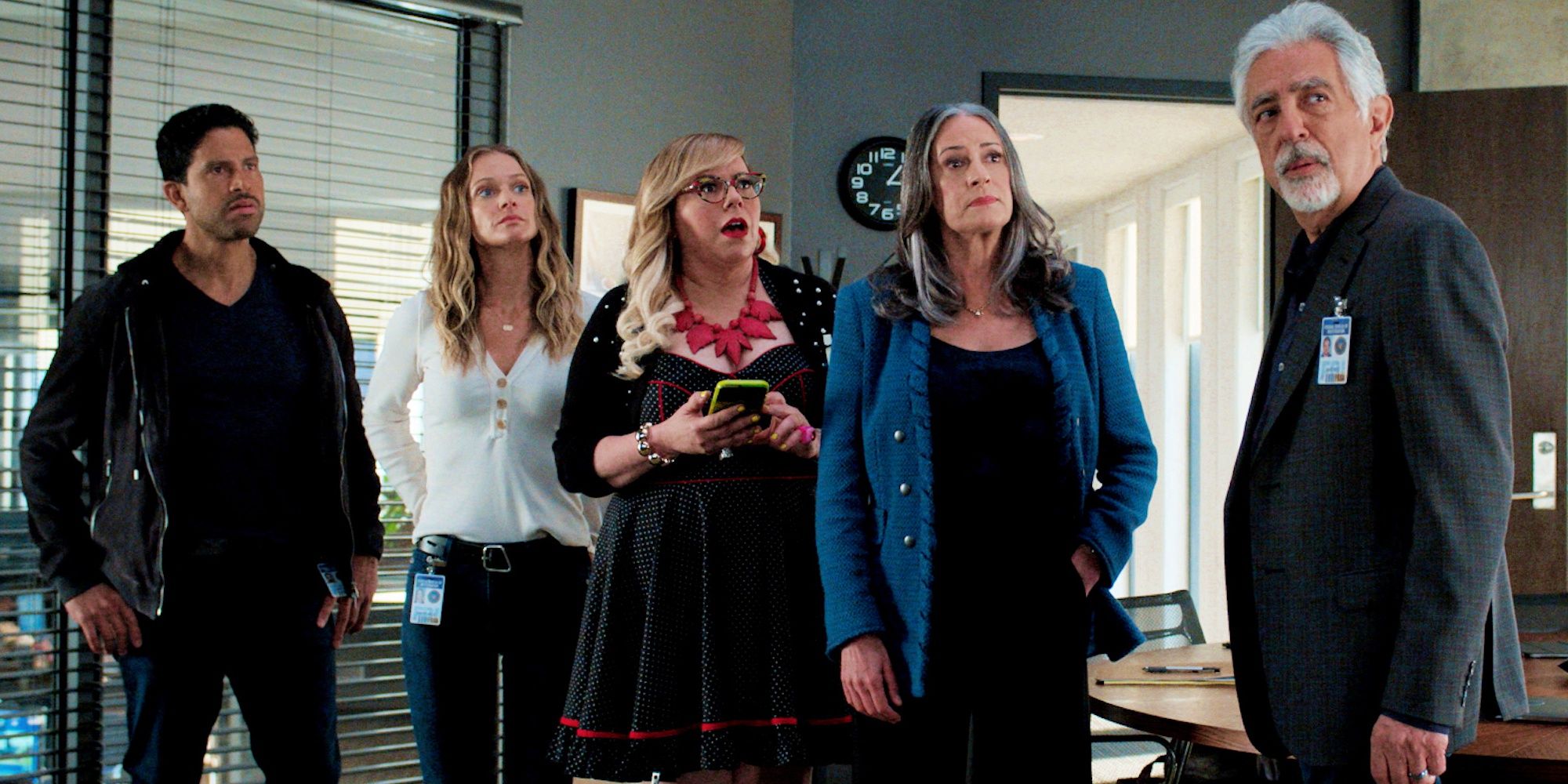 Although Paget Brewster's return to Criminal Minds was well-received, it didn't last for long as she left the series one more time. In April 2012, Brewster said goodbye to Criminal Minds in order to pursue comedic roles, and among the projects she landed after leaving the BAU were Lana Lang in the animated movie Batman: The Dark Knight Returns, Trish in Modern Family, Debra Chambers and Francesca Dart in Community, and Det. Sally Ferguson in Key & Peele. However, and just like the first time she left Criminal Minds, Brewster didn't stay too far from her former team, as she reprised her role as Emily Prentiss in season 9 for the 200th episode, and later in one episode of season 11 following the departure of Shemar Moore. In 2016, Brewster returned as a series regular for the 12th season of Criminal Minds after Thomas Gibson was dismissed from the show, and she continues to be part of the team.
Criminal Minds came to an end with its fifteenth season in 2020, but in the era of reboots and revivals, it didn't take long for the BAU's team to return. The following year, a revival series and the sixteenth season of Criminal Minds – titled Criminal Minds: Evolution – were announced to be in development at Paramount+, and the audience reunited with the team in November 2022. Brewster joined her costars Joe Mantegna (who plays David Rossi), A.J. Cook, Kirsten Vangsness (Penelope García), and Adam Rodriguez (Luke Alvez) in this new season, and she will continue to play Emily Prentiss in a new season of Criminal Minds: Evolution.



This story originally appeared on Screenrant