Among all the other categories in film and television, there has always been a place at the table of themes for mythical creatures. Whether you go back to Ted Browning's 1931 theatrical adaptation of Dracula that starred Bella Lugosi or you'd rather have something more recent and catch up on all the five parts of the Twilight saga that originally premiered on the big screen in 2008, filmmakers throughout time have always found a unique and entertaining way for the audience to bite into the vampire character.
Whether the draw for the story is based solely on a simple yet entertaining combination of romance and horror or, rather, a whole fantastical universe is whipped up instead that not only includes vampires but werewolves, shape-shifters, and vampire-human hybrids (oh my!), the numerous related works seem to be just as ageless as the original character that was created by Bram Stoker in 189.
Just recently, moviegoers had yet another run-in with the most famous vampire of them all as Nicolas Cage played Dracula himself in the recently released and Universal Pictures distributed film Renfield. Even though ticket sales conclusively only reached a third of the overall budget of this horror comedy, writer Robert Kirkman's twist on the age-old myth centered around Dracula's lesser-known but faithful companion, who is brought to life by actor Nicholas Hoult.
Not one to ever step off the trail of a trend, Netflix and a production company by the name of Endemol Shine India are looking to put their own spin on the terrifying classic by reminding viewers that in the midst of romance and secrecy, vampires need dental work just like everybody else.
Related: Why Renfield Is the Vampire Satire We Need Right Now
Biting the Wrong Neck But Meeting the Right Person
With the eight-episode first season premiering on Apr. 20, Tooth Pari: When Love Bites revolves around a shy and conservative dentist named Dr. Bikram Roy and a rebelling vampire named Rumi. While the rest of her clan live most of their lives hidden underneath the streets of Kolkata, India, Rumi and her friend Sreela spend almost every night up above, partying and seducing those who can satisfy their taste for blood.
Rumi makes the worst move she can make, though, when she targets a male DJ named Badshah, who, unbeknownst to her until she goes in for the kill, has a hardened artificial neck due to his battle with thyroid cancer. With one of her fangs now missing and her first pick for tooth assistance not being able to help her, she decides to take a chance and visit a dentist whom she met at the same party
After Badshah notifies the cops of Rumi's insane behavior, a witch-in-waiting named Luna Luka and her coven clan named Cutmundus, who have been hunting the family of vampires for many years, are put into action with the exciting news. Not only does the young vampiress have to contend with the stalking assailants, but she ends up falling in love with the mortal dentist and has to deal with the dangerous ramifications of such a romance from elders at home who utterly forbid such a thing.
With a rogue cop figuring out Rumi's secret and the lone DJ now becoming a grumpy vampire, many supernatural events are unfolding quickly in the mythical world of Tooth Pari.
Related: The Most Iconic Vampire Hunters In Movie History
Acting Legends and Famous Dancers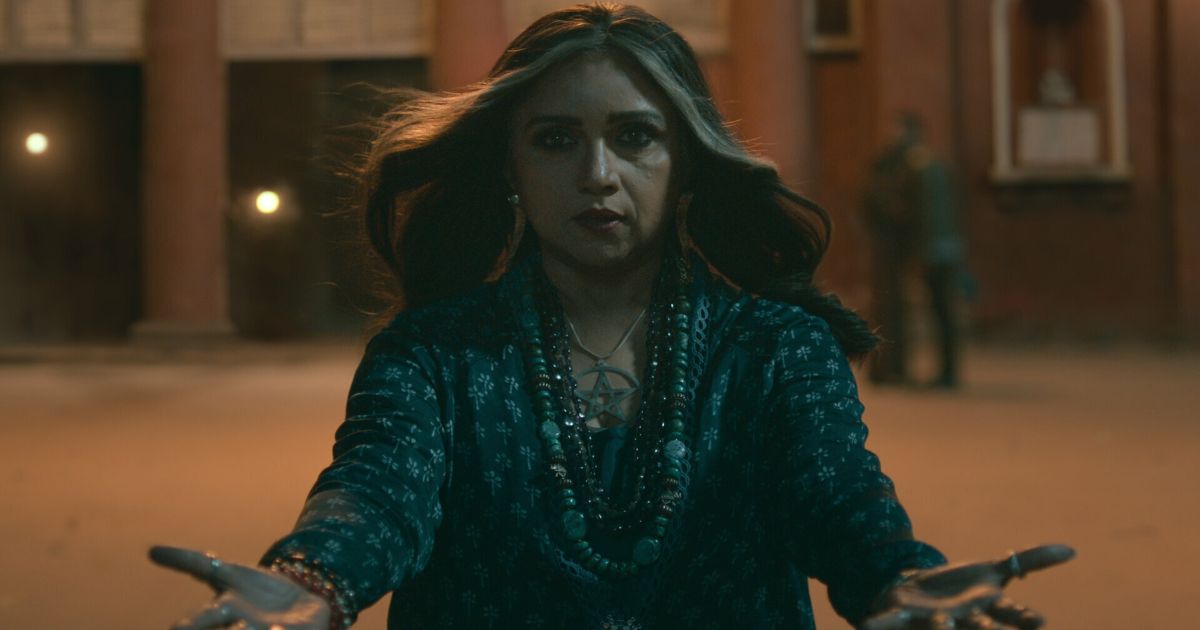 As quirky and enchanting as the various plot lines are, the story wouldn't run as smoothly as it does without the charm brought forth by the cast members. Playing the central characters of Rumi and Dr. Bikram Roy are famed Indian celebs Shantanu Maheshwari and Tanya Maniktala.
Besides being in a hip hop dance crew called Desi Hoppers, which has been featured on Nickelodeon Kids Choice Awards India and promotional videos for The Umbrella Academy, Mr. Maheshwari has been featured in numerous web series and won awards for his creativity in acting. Ms. Maniktala has worked in numerous Indian Netflix productions, including Feels Like Ishq and the unique shorts series, How To Fall In Love.
Considering the fact that she has also garnered an award from the Toronto International Film Festival for her work in the BBC miniseries, A Suitable Boy, it seems as though the romance genre is her expertise.
Other notable names on Tooth Pari: When Love Bites include Tillotama Shome, Sikandar Kher, and Revathi. These three step into the shoes of Meera, an older vampire in Rumi's camp, Sartik Pal, the head fast cop who mixes emotions with logic, and Luna Luka, the woman who wants to end Rumi's legacy.
Ms. Shome has been in films for over twenty years and won a Best Actress Award in 2019. Among other roles, Mr. Kher took part in Netflix's science fiction drama Sense8 in 2016. Revathi is a legend in Tamil and Malayalam cinema, winning over twenty-seven acting awards since the early 1980s.
With a story that mixes the genres of comedy, drama, and fantasy but also has a lineup of actors and actresses with very respectable backgrounds, Tooth Pari: When Love Bites is one rendition on the topic of vampire lore that should not be missed.


This story originally appeared on Movieweb