Law & Order: Organized Crime may have given away clues to say that an Olivia Benson and Elliot Stabler relationship won't happen anytime soon. Those rooting for Benson and Stabler have been notoriously strung along by the Law & Order franchise for more than two decades now, and it doesn't look like the procedural crime series plans to cater to the thirsty whims of fans quite yet. Instead, Law & Order seems to be playing the long game, and audiences just keep falling for the bait.
In one of the largest teases to air on television, Law & Order appeared to make due on Benson and Stabler's feelings for each other in Law & Order: SVU season 24's "Blood Out" episode that saw them share a yearning and steamy "almost kiss." The moment was fleeting, but had been just enough action to convince audiences that something would come of it, especially ever since Stabler was confirmed to rejoin the franchise in Organized Crime. However, there have been several instances in both series to suggest that even if a Benson and Stabler relationship is inevitable, there are obstacles they need to overcome, and it wouldn't happen soon.
Related: Law & Order Sets Up Stabler's Permanent SVU Return
Law & Order: Organized Crime Shows Stabler Is Still Grieving His Late Wife
Stabler's past has come back to haunt him, topping the list of stumbling blocks obstructing the path to his and Benson's romantic conclusion. When a suspected criminal asks if Stabler is married in Organized Crime's season 3, episode 20, it quickly becomes apparent that of all the ways Stabler has changed since joining Organized Crime, the pain of his late wife Kathy remains consistent. To show beyond a doubt that Stabler is still deeply feeling the grief of Kathy's murder, Law & Order sees the shaken detective envision an apparition of Kathy, which Organized Crime deemed critical enough to bring back actress Isabel Gillies for a surprise guest appearance.
Stabler was so shaken by the occurrence that he seeks council with Benson during the recent Organized Crime and SVU crossover event. The crossover is littered with touching moments where Stabler defends Benson and her child or Benson calls Stabler by her pet name for him, but it also doesn't ignore the cavernous trauma Stabler cannot quell. Benson notices Stabler has put his wedding ring back on before he admits to her that he's troubled by the hallucinations of Kathy, and these instances in themselves should be enough for audiences to realize that there are some obstructions that need to be resolved before things are taken further.
Benson Already Passed On The Opportunity In Law & Order: SVU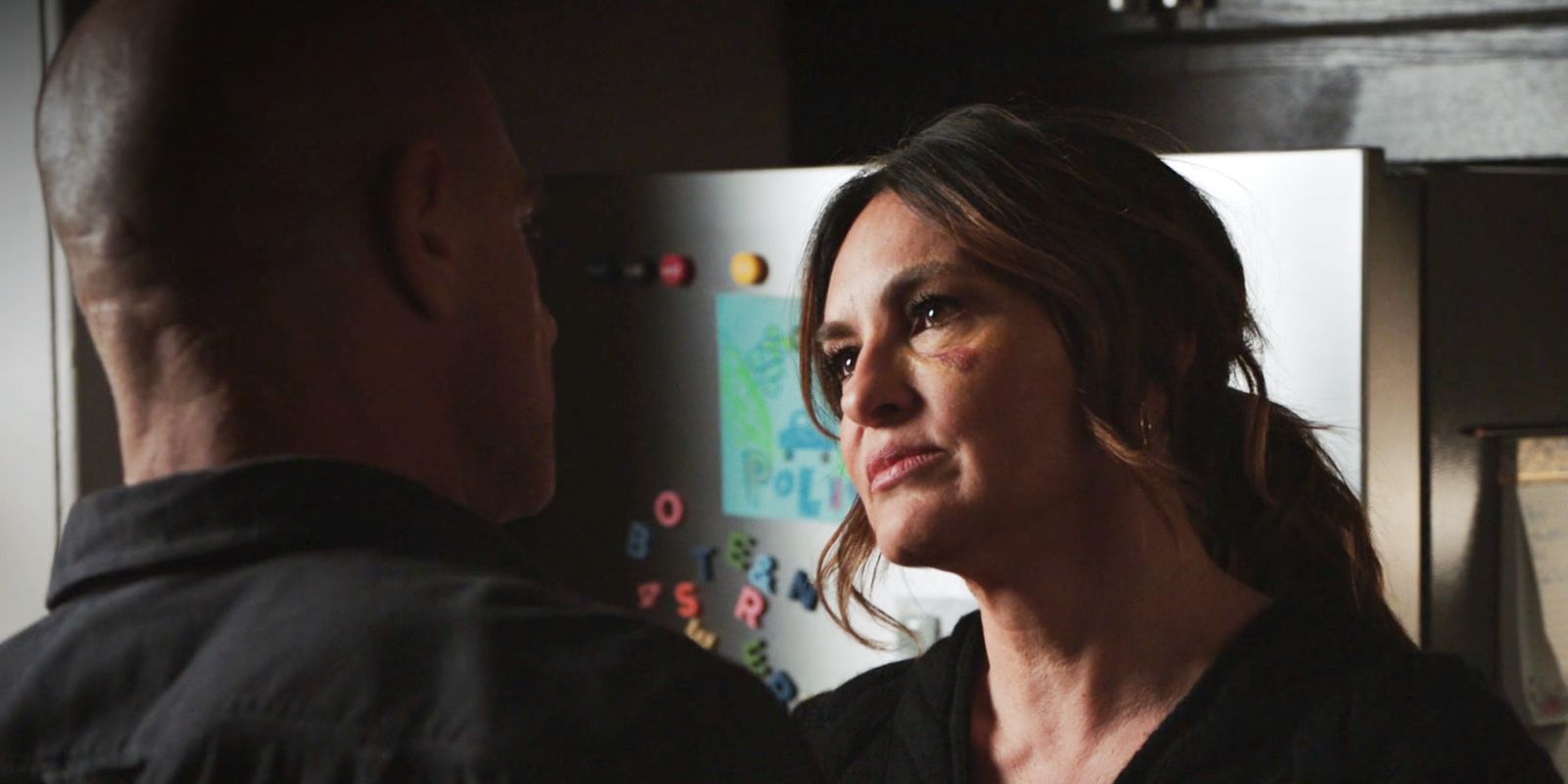 Even more to the point, there's something inside Benson that caused her to admit to Stabler that she wasn't ready for anything to go further between them just yet. The infamous "almost kiss" was interrupted by Benson – who may still feel insecure with their potential after Stabler abandoned their SVU partnership back in the day – and whatever the case may be as to why she stopped their near romantic moment, it needs to be considered and resolved as well. The Law & Order: Organized Crime crossover with SVU is certain to feature additional moments between the two, but whether those moments generate anything substantial is the true question.


This story originally appeared on Screenrant